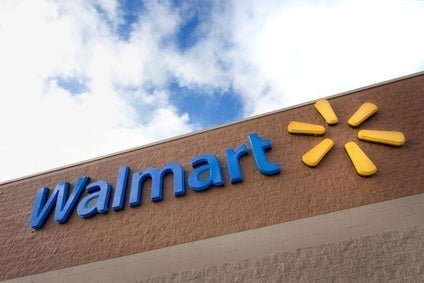 Retail giant Wal-Mart is putting pressure on its suppliers to improve animal welfare standards and transparency in supply chains while also reducing the use of antibiotics in animal rearing in the US.
The company said it is committed to the concept animals should be treated "humanely" and supports the Farm Animal Welfare Council's "five freedoms", which includes the freedom to express "normal behaviour" by providing "sufficient space" for animals to do so.
Wal-Mart is asking its suppliers to report and take disciplinary action in cases of animal abuse; "find and implement solutions" to address welfare concerns in the housing or slaughtering system; and promote transparency by providing the retailer with annual animal welfare reports.
The company also outlined its position on the use of antibiotics in animal husbandry. It argued antibiotics should be used "responsibly" – avoiding the use of "medically important" antibiotics and not using them for "growth promotion". Wal-Mart wants suppliers to adopt and implement the US Food and Drug Administration's voluntary guidance for industry alongside the Judicious Use Principles of Antimicrobial Use from the American Veterinary Medical Association (AVMA) including accurate record-keeping, veterinary oversight, and limiting antimicrobial treatment to animals that are ill or at risk. Wal-Mart wants suppliers to report back on an annual basis.
"Our customers want to know more about how their food is grown and raised, and where it comes from. As the nation's largest grocer, Walmart is committed to using our strengths to drive transparency and improvement across the supply chain," said Kathleen McLaughlin, president of the Walmart Foundation and senior vice president of sustainability at the retailer.
"We believe it's important to promote transparency in this process, helping to put our customers in charge of their food choices by providing clear, accurate information about food ingredients. We appreciate the leadership our suppliers have shown to help us accomplish these goals."