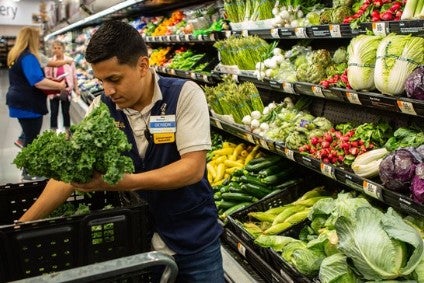 US retail giant Walmart will require suppliers of fresh, leafy vegetables to implement digital traceability using blockchain by September next year following a spate of E. coli outbreaks.
"This change means that the information gathered by these suppliers will be open and accessible through technology that offers real-time, end-to-end traceability from farm to table," the Arkansas-headquartered retailer said in a statement. "Blockchain allows for digitised sharing of data in a secure and trusted way."
Sam's Club, the membership-only retail warehousing firm operated by Walmart, is also part of the technology push.
The US food industry suffered an outbreak of E. coli this year in Romaine lettuce, forcing customers and grocers to dispose of the product. The Centers for Disease Control (CDC) consequently advised consumers to avoid eating lettuce grown in Yuma, Arizona.
Frank Yiannas, the vice president for food safety at Walmart, explained: "None of the bags of salad had Yuma, Arizona on them. "In the future, using the technology we're requiring, a customer could potentially scan a bag of salad and know with certainty where it came from."
Under the current system, Yiannas said it can take up to seven days to track down where a product originated using paper-based ledgers and Walmart hopes to reduce that by using blockchain technology, which it says can identify a source within "a couple of seconds".
"The food system is absolutely too large for any single entity to [track]," Yiannas added. "We've been working with IBM to digitise that, so the information is captured on the farm with a handheld system. It's [also] captured at the packing house at the supplier."
Robert Tauxe, the managing director of CDC's Foodborne, Waterborne, and Environmental Diseases division, suggested the use of technology should be adopted more widely to ensure a quicker response to potential harmful bacteria outbreaks.
"Enhanced ability to trace a contaminated food back to its source will help government agencies and companies to identify the source of a foodborne disease outbreak, coordinate more effective recalls of foods thought to be contaminated, and learn where past problems began," he commented. "We think these steps will strengthen future prevention efforts and better protect the public's health from the threat of foodborne illness."