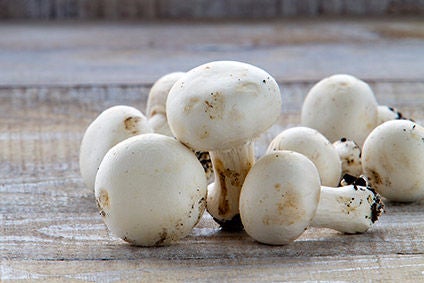 Ireland-based Walsh Mushrooms has acquired local peer Golden Mushrooms, a deal it called "a positive move" for the sector as it readjusts after the UK's vote to leave the EU.
Walsh Mushrooms said its purchase of Golden Mushrooms "can be seen as a significant show of confidence in the future of the Irish mushroom industry" amid what it described as the "on-going volatility in the sector in the wake of Brexit".
The UK accounts for an estimated 80% of the sales of Ireland's mushroom growers. Since the UK voted in June to quit the EU, a clutch of Ireland's mushroom suppliers have gone out of business.
A representative for Walsh Mushrooms Group said the acquisition came against the backdrop of the fall of the value of the pound since the Brexit vote. "The deal secures supplies into the UK at a time when they are under real pressure because of the weak sterling," she said.
In a statement, Padraic O'Leary, Walsh Mushrooms' managing director, said: "The last seven months have certainly been incredibly difficult but we are confident that the sector will overcome the challenge created by Brexit. The fact is that mushrooms are the second largest vegetable category in the UK, yet the market is not self-sufficient and needs to import 50% of their mushroom requirement. A long-standing, strong relationship exists between our markets and we are confident that ultimately the UK will return a more sustainable price for Irish mushrooms reflecting the new, post-Brexit, foreign exchange rates."
Walsh Mushrooms Group, which three sites across Ireland and the UK, markets over 26,000 tonnes of mushrooms a year, said it markets over 26,000 mushrooms a year. The company generates annual sales of over EUR75m (US$80.7m). It declined to disclose its profits. The acquisition of Co. Tipperary-based Golden Mushrooms, which generates EUR5m annual in sales, gives Walsh Mushrooms a fourth site.
O'Leary added: "Golden Mushrooms has grown into a successful business over the last 18 years and we have long admired the production facilities and staff."
Michael Bergin, who founded Golden Mushrooms in 1998, said: "We are proud to have grown a successful business from scratch and are delighted to see it, and our loyal employees, continue to operate under the new ownership of Walsh Mushrooms Group. We have worked closely with Walsh Mushrooms Group for the last 15 years and greatly respect their continued support and confidence in the Irish mushroom industry."
Walsh Mushrooms accounts for over 15% of the total UK mushroom sector. Its customers in the UK include The Co-operative Group and Aldi.