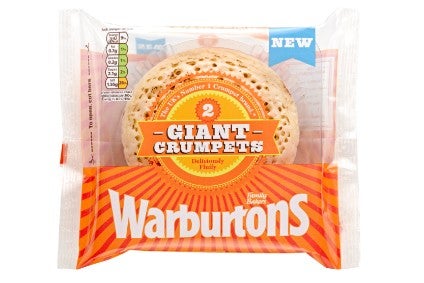 UK baker Warburtons has revealed it is now back to full production capacity on its crumpets after being forced to close down their manufacture in two of its plants last week due to the European carbon dioxide (CO2) shortage.
The privately-owned company announced on Friday (29 June) production had halted at its sites in Enfield, north London, and Burnley in Lancashire as it did not have enough gas for use in packaging designed to keep the products fresh.
Under normal circumstances, some 8.1m crumpets can roll off the production lines at the two factories each week.
But Warburtons said today (4 July) that things were back to normal.
Tearmh Taylor, corporate and consumer affairs manager at the company, said: "After a tricky couple of weeks, we have finally received a supply of CO2 and production has returned to normal at all sites. We will be back on Britain's shelves this week ready for our customers to enjoy."
Warburtons joined the ranks of UK meat and poultry processors, retailers, and drinks firms to be hit by the CO2 shortage caused by a number of European ammonia and ethanol plants, key producers of the gas, being closed for maintenance work at the same time.
The gas has multiple uses in the food industry from aiding in the stunning animals process in slaughterhouses to retailers and manufacturers using it to chill or extend the shelf life of foods in packaging or through dry ice (CO2 in its solid form).
Three out of five key UK producers were shut down, but two of those have restarted. However, there is likely to be a time lag in supplies filtering through.
The British Meat Processors Association warned on Monday (2 July) it is expecting plants to experience problems over the next two to three weeks until normal supplies are fully restored.
And today it was revealed firms waiting for supplies of CO2 have been dealt a blow after one of the UK's main plants suffered a power outage.
CO2 distributor Air Liquide has warned its gas situation had "worsened significantly" because of a "sudden and unexpected" loss of power affecting its site at Chester in north-west England.