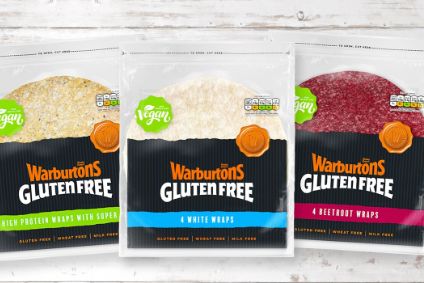 Warburtons, the UK bread major, has teamed up with the accelerator Mission Ventures to invest in start-ups offering "bakery-led brands".
Privately-owned Warburtons and Mission Ventures, formerly known as Grocery Accelerator, plans to fund around five UK businesses that incorporate baking in their production process, including baking kits and baked snacks, as well as traditional goods such as bread and biscuits.
Through the vehicle, called Batch Ventures, Warburtons and Mission Ventures plan to select the start-ups over the next 12 months.
Jonathan Warburton, the bakery group's chairman, said: "As a fifth-generation family business, we are proud to be backing British enterprise during these uncertain times and this programme allows us to support the next generation of innovative, bakery-led brands."
Mission Ventures is led by three entrepreneurs from the UK food sector: Plum Baby co-founder Paddy Willis; John Stapleton, co-founder of New Covent Garden Soup and Little Dish; and Nigel Parrott, co-founder of Ape Snacks. It has existed in its current form since March.
Speaking to just-food, Stapleton said Mission Ventures and Warburtons "hadn't actually confirmed" the amount of money they plan to invest in the fledgling businesses.
"We've purposefully said we're not going to put a number on this until we know more about who we've got," Stapleton said. "What we can say is there will be enough resource in terms of advice and funding to match the expectation and ambition of the entrepreneurs. It's not a one-size-fits all. That doesn't work. We looked at that with Grocery Accelerator. That's not an appropriate model. All these guys are going to be different, at different stages of growth. We might fast-track some and take others on a more leisurely journey depending on their needs. Each business on its own merits."
Asked how much equity Batch Ventures would be looking to take in the businesses selected, he added: "That's not set in stone either. I remember when we started Grocery Accelerator thinking: 'OK, we'll do, like, GBP60,000 (US$75,727) for 10%.' Why would it be that in the first place? And why would it be that for every business in the cohort? It's not an appropriate sum at different stages of growth. We're going to be very clear and very open in terms of valuation and how much money we're going to invest. There's no bottomless pit but Warburtons are a very strong business and they have committed to fund the right businesses at the right stages of development."
Stapleton said Mission Ventures had been looking at a number of categories before deciding to launch a vehicle in the baked-goods category. "It's been demonstrated through Covid that it is one of the basic staples of the UK diet. There are trends, fads and categories that come and go in popularity but, in terms of bakery, it's a very solid, a significant, part of the UK diet. Having said that, traditional sliced white bread has probably been in decline for a bit."
He said Batch Ventures was looking to back firms that have "innovative, new, exciting, entrepreneurial ideas, with strong entrepreneurs behind them" and which "leverage baking technology in some way".
"It has to have something to do with baking. It could be bread, it could be traditional baked goods, or biscuits, or even cookie dough, or baking kits; we've seen with Covid and lockdown people cooking a lot more at home. Then there's snacks. A lot of snacks are baked, particularly in the health area."
Last month, Mission Ventures revealed the companies it had selected for its Good Food Fund, a programme aimed at supporting products the UK-based accelerator says could help in the fight against childhood obesity. Three of the companies chosen are at the pre-revenue stage, two have launched with limited distribution and the other two have achieved listings at UK supermarkets.
Stapleton said the firms selected for Batch Ventures could be of a similar mix. "I would say it's very likely that these five in the bakery category and associated areas would be in a similar range. We'll see what comes through and we'll react to that."