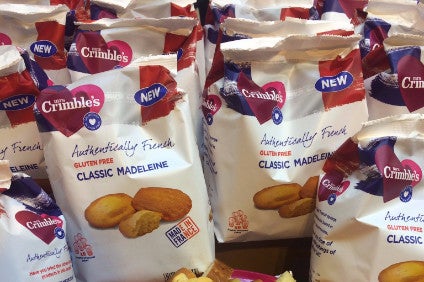 Companies including Warburtons, Genius Foods and Mrs Crimble's owner Wessanen have set up a gluten-free industry association in the UK to work on standards and improve consumer confidence.
The initial areas of focus for the Gluten Free Industry Association will be developing "best practice guidelines" on ingredient sourcing and gluten-testing methodology in order, it said, "to deliver the highest quality of products to their consumers".
Simon Wright, the chair of the GFIA, said: "Regarding best practice guidelines on ingredient sourcing, we do not yet have a view as to whether all gluten-free ingredients require the same level of scrutiny or whether certain ingredients are particularly problematic. This will emerge from our initial discussions. On testing methods, we want to understand the most reliable and cost-effective options for gluten-free testing, both on ingredients and on finished products. There is no intention to introduce tougher standards, but the GFIA brings together leading producers of gluten free foods to ensure consistent high standards and to provide additional consumer confidence."
The association also counts Italy-based Dr Schar and Ireland's BFree Foods among its members.