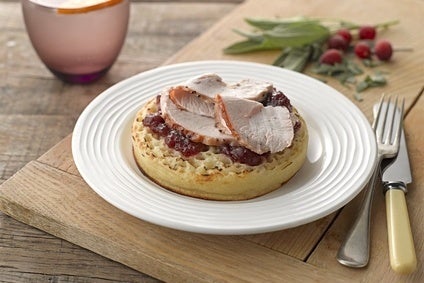 UK baker Warburtons has launched a crumpet twice the size of its standard line to target more meal times.
Darren Littler, Warburtons' innovation director, said: "As shoppers continue to face increasing time-pressures, we understand the need for quick and easy meal time solutions and we've answered this demand with our new first-to-market Giant Crumpets."
Warburtons has invested over GBP7m (US$10.8m) in a new crumpet plant at its bakery in Bolton in north-west England to produce the new line and the standard-sized crumpets.
The company has secured listings for the new products at retailers including Asda, Sainsbury's, Morrisons, and The Co-operative Group. They are available in packs of two with an RRP of GBP0.69.
Click here for an interview with Chris Hook, the director of Warburtons' free-from business, published in June, in which he discussed his plans to grow that side of the group, which is run from a unit called Newburn Bakehouse.