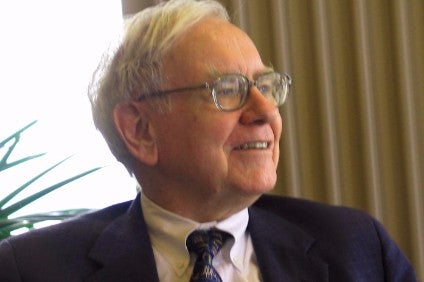 Warren Buffett has said Kraft Heinz has not prepared "a back-up deal" in the wake of Unilever rejecting the US group's proposed takeover offer.
In an interview with CNBC today (27 February), the US billionaire investor – who with Brazil-based private-equity group 3G Capital owns a majority stake in Kraft Heinz, said the ketchup-to-beans giant's move for Unilever was "the only one that certainly I seriously thought about that made sense".
Since Kraft Heinz withdrew its proposed bid for Unilever last Sunday, investor attention has moved back to the US-based companies that had been thought to be the next possible targets for Buffett and 3G.
Speaking to CNBC, Buffett indicated Kraft Heinz was likely to move again but appeared to suggest the possible values the company would have to pay would make it difficult for the company to find a deal it would find attractive.
"Will there be another deal at Kraft Heinz someday? My guess is yes, but who knows when … it would have to be friendly and frankly, the prices in that field make it very, very, very tough to make an intelligent deal," Buffett said.
Shares in US-based food companies that had – prior and since Kraft Heinz's move for Unilever – been touted as possible targets fell today. Mondelez International's stock stood at US$43.83 at 15:18 ET, down 3.42%. Shares in General Mills stood at $59.92 at 15:19 ET, down 2.36%. Shares in Kellogg had fallen 1.15% to $73.85 at 15:20 ET.
In the interview with CNBC, Buffett insisted Kraft Heinz's approach to buy Unilever was not hostile. Once he and the co-founders of 3G – Alex Behring and Jorge Paulo Lemann – realised Unilever had viewed the move as hostile, they withdrew their idea from the table, Buffett said.
"On Saturday [18 February, the day after Kraft Heinz publicly confirmed its proposed bid] I got calls indicating the offer was unwelcome. I said if it's unwelcome – and Jorge Paulo said the same – if it's unwelcome, there is no offer. It was only intended to be presented if there was a possibility," Buffett claimed.
Buffett, the founder of US investment fund Berkshire Hathaway, said Behring had had two meetings with Unilever CEO Paul Polman. At the first, Buffett claimed, Behring "brought up the idea of possibly making an offer later in the conversation. He didn't get a 'yes', he didn't get a 'no', he got a perfectly polite conversation", Buffett said.
"Alex came back and said he hadn't been thrown out so would we want to go ahead? He went to see him again maybe two weeks later and he had a letter that was an outline of a deal – which he thought if he got a neutral response he would give but if he got a negative feeling he would not. He went over and felt he got a neutral response and therefore gave him a letter."
Speaking at the Consumer Analyst Group of New York conference on Friday, Unilever CFO Graeme Pitkethly said the Knorr owner had rejected the GBP112bn (US$139.1bn) takeover approach because Kraft Heinz's proposed offer did not value the UK group highly enough.
Last Wednesday, three days after Kraft Heinz had announced it had withdrawn its proposal, Unilever announced it was launching a review of its operations in order to "accelerate" the value it can give to its shareholders.
Pitkethly told CAGNY Kraft Heinz proposal represented an "inflection point" for Unilever, prompting the company to launch a "comprehensive review" of "value creation options".
"While we rejected their offer, we do see it as an inflection point that is why after a thorough discussion in the board this week we announced a couple of days ago we will be launching a comprehensive review of value-creation options," Pitkethly said.
"The events of last week show us the challenge to unlock more value faster in the shorter term rather than focusing more heavily on steady value creation over the longer term, which is what we do. This has been a trigger moment for Unilever and we will not waste it."
Unilever's strategic review will look at all options for to create value for shareholders, including operational changes and changes to its portfolio, Pitkethly revealed.
Yesterday, The Sunday Telegraph claimed Unilever is understood to be giving what the newspaper called "serious thought" to a spin-off of its food business into a separate listing. Unilever declined to comment when approached by just-food today.