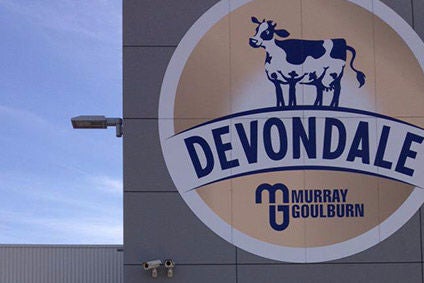 Australia's competition watchdog has launched court proceedings against dairy giant Murray Goulburn – claiming the cooperative "engaged in unconscionable conduct and made false or misleading representations" that "adversely impacted" many farmers.
The move by the Australian Competition and Consumer Commission (ACCC) follows a probe into the country's dairy industry, triggered last year by the federal government, after dairy processors including Murray Goulburn and Fonterra moved to cut their farmgate milk prices (FMP) by as much as 20%.
The ACCC is seeking orders against Murray Goulburn that include declarations, compliance programme orders, corrective notices and costs. The watchdog said it would not seek a financial penalty "because, as a cooperative, any penalty imposed could directly impact on the affected farmers".
Former Murray Goulburn MD Gary Helou and former CFO Bradley Hingle "were knowingly concerned" in the cooperative's conduct, the ACCC claims.
However, the ACCC said it would take no further action against Fonterra. A "major consideration" for the decision was Fonterra had been "more transparent about the risks and potential for a reduction in the farmgate milk price from quite early in the season", ACCC chairman Rod Sims said.
The ACCC alleges that from June 2015 until February 2016, "Murray Goulburn misled farmers by representing that it had a reasonable basis for setting and maintaining an opening FMP of AUD5.60 (US$4.21) per kilogramme of milk solids (kgms) and a forecast final FMP of AUD6.05/kgms, and that it considered the forecast final FMP of AUD6.05/kgms was the most likely outcome for financial year 2015/16 (FY16), when that was not in fact the case".
Farmers were further misled with similar representations from February 2016 until April 2016, Sims said. He said the allegations relate to representations made by Murray Goulburn to its Southern Milk Region dairy farmers.
"The farmers relied on Murray Goulburn's representations and were not expecting a substantial reduction in the farmgate milk price, particularly so close to the end of the season when it was not possible for them to practically readjust their expenditure," Sims said.
Murray Goulburn said it is "considering the proceedings, however notes that ACCC has decided not to seek a pecuniary penalty".
Helou and Hingle left the co-op in April last year alongside a profit warning and a move to cut the price Murray Goulburn paid farmers for milk. The announcements came days after Murray Goulburn had called a for a halt in the trading of its shares to review how trading conditions in the sector, including the pressure on global dairy commodity prices, were affecting the business.