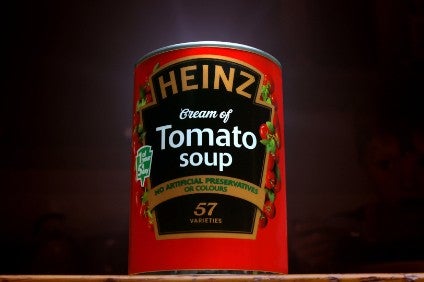 Kraft Heinz CEO Bernardo Hees, presiding over a business facing ongoing speculation over its next M&A move, has said the US group does not want to strike deals that would make the company "happy for a quarter" but then regretful months later.
On Friday (3 August), Kraft Heinz reported its second-quarter and first-half financial results – but was also the subject of a fresh media report in the US suggesting the ketchup and baked beans maker was weighing up a move for US peer Campbell Soup Co.
The New York Post said Kraft Heinz had held early talks with Campbell, which is undertaking a strategic review of its business and has been without a CEO since May after Denise Morrison left the business.
Kraft Heinz has not tabled an offer for Campbell and is not likely to pay much of a premium, The New York Post said, citing two unnamed sources.
The report hit the wires just hours before Kraft Heinz discussed its results with Wall Street analysts, who quizzed the company's management about their thoughts on M&A.
Scott Mushkin, managing director and senior research analyst at US research firm Wolfe Research, asked if Kraft Heinz believed there were "structural impediments" to further consolidation in the packaged foods market, an industry that has not seen the same levels of major M&A activity as others in the wider consumer-goods sector.
Hees said "local tastes, regulation and other things" had meant the packaged foods market had yet to witness the consolidation seen in other parts of the FMCG sector but said Kraft Heinz "had not been shy to say that we want to be a force behind this when the process happens".
However, Hees said he did not believe there were any "structural" reasons for the relative lack of activity before adding: "I think again it's important in our case to be very disciplined on our approach and our framework. That has not changed. We are disciplined on price to the value-creation equation.
"And I think also important to say, we don't do something to be happy for a quarter and then be regretting [it] for the long term, to be apologising for the next couple of years. When we move, we definitely move with a much longer-term view, believing that something is going to make the company stronger for the years to come."
Kraft Heinz's last acquisition came earlier this year in Australia and New Zealand when it acquired food and coffee business Cerebos Gregg from Japan's Suntory.
On a more international level, Kraft Heinz last year registered interest in buying Unilever but was rebuffed by the consumer-goods giant.
For the second quarter to 30 June, Kraft Heinz reported a 0.7% rise in net sales to US$6.69bn, an increase that translated to a dip of 0.4% when exchange rates and M&A were removed from the numbers.
The results were an improvement on the first quarter, when Kraft Heinz booked a 0.3% decline in net sales and 1.5% fall in net sales on an organic basis.
CFO David Knopf said Kraft Heinz believed it is "in a strong position to deliver organic growth for the full year", adding: "We continue to expect that 2018 will be a year where the first half/second half balance of net sales will be skewed to the second half. Our organic net sales growth is expected to begin now in Q3 with the US growing and EMEA and Rest of World sustaining momentum. In Canada, with near-term risks at play, it may be Q4 until we see the turn."
Alongside the numbers, Knopf also said Kraft Heinz now planned to spend "at the high end" of the $250-300m the company had outlined it had earmarked for "commercial investments" this year.
Barclays Capital analyst Andrew Lazar asked if that spending and the forecast of being able to grow organic sales again from the third quarter would make Kraft Heinz more willing to buy businesses "that may require a bit more heavy lifting rather than ones that already have better growth prospects, but would certainly come at higher multiples".
Campbell's sales have fallen in each of the company's last four financial years and, in each of the first three quarters of the group's current fiscal year, sales have declined.
Hees replied: "Our framework has really not changed – the fact that we like big brands, the fact that we like businesses that can travel and internationalise, the fact that we do like to take synergies from existing business and to reinvest behind brands, behind products and behind people. I don't think that this framework change because of the capabilities we're developing.
"What I can say that with the experience we have today after being – since Heinz in 2013 – five years into the industry, the knowledge on the categories, the knowledge of the things that do work and things that you have seen that do not work, and so on, allows us to be much more confident [about] where to put the money, what assets can be turned around and things that can really be within this framework.
"To your question about assets, slower growth, or higher growth, and so on, I don't think that has changed with what we have in mind from a framework standpoint."
For the six months to the end of June, Kraft Heinz's net sales stood at $12.99bn, up from $12.96bn a year earlier.
The company, which alongside the Kraft and Heinz brands owns others such as Planters nuts and Ore-Ida potatoes, posted first-half operating income of $2.81bn, down from $3.08bn in the first six months of 2017.
Net income reached $1.74bn, compared to $2.05bn a year ago. Adjusted EBITDA was $3.77bn, against $3.91bn in the first half of 2017.