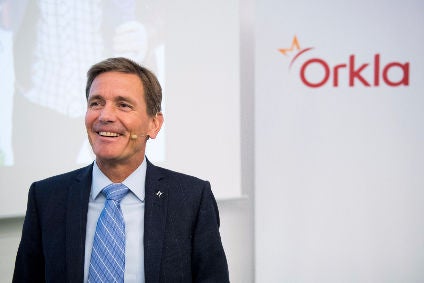 Orkla CEO Peter Ruzicka has pledged the Nordic consumer goods group's results will improve in 2019 after seeing earnings and underlying sales decline last year.
The company behind food brands including Grandiosa pizza and Stabburet pâté booked lower earnings per share and a 0.2% dip in organic revenues from its core branded consumer goods division – which makes up the bulk of sales – for 2018.
On a reported basis, revenue from branded consumer goods rose 2.8% in 2018, helped by the impact of acquisitions and a slight boost from exchange rates.
In the fourth quarter of the year, revenue from Orkla's branded consumer goods slid 0.9% while underlying EBIT dropped 5.1%.
Orkla's profit for the year stood at NOK3.35bn (US$389.4m), down sharply from NOK8.66bn in 2017 when earnings from discontinued operations were removed from 2018's numbers.
Based on continuing operations, Orkla's group profit was NOK3.35bn in 2018 versus NOK3.59bn in 2017.
Andrew Wood, an analyst at US investment bank Sanford Bernstein, said Orkla had a "terrible year" in 2018.
Speaking to analysts when Orkla's results were published on Wednesday (6 February), Ruzicka said: "I am, of course, very disappointed about our performance in 2018. For sure, we had some headwind, but we cannot blame external factors for all our setbacks in 2018. I know that we can do better than this and we will do better than this going forward."
On an organic basis, Orkla saw revenues from its Orkla Foods and Orkla Food Ingredients arms rise 1.5% and 1.2% in 2018. EBIT from Orkla Foods fell, although rose at Orkla Food Ingredients.
However, the company's Orkla Confectionery & Snacks division reported lower organic revenue and lower adjusted EBIT. The division's overall performance had been affected by an increase in the tax on sugar in Norway in 2018 and by the loss of a distribution deal for Wrigley gum. Nevertheless, Ruzicka still said the business unit needed to improve.
"In confectionery and snacks … our organic growth and margin development were almost flat. And as I mentioned we are not happy about that. That is not satisfactory," Ruzicka reflected.
Reflecting on Orkla's overall performance, which was also hampered by issues in non-food areas, Ruzicka added: "We are not happy with the results we are delivering for 2018 or for Q4. I'm not proud of that. Yes, we have had some external headwind, but we also have to admit that we have not responded fast enough to the challenges that we have met.
"And I know that we can do better than this and 2019 will be a year we will improve and we will be back on track again. We see quite stable growth in our market, but the growth is moderate. And our target is to continue to grow at least in line with the markets we operate in over time. But also, as we mentioned, short-term, we will have focus on complexity reduction and margin improvement over organic growth. But long-term, our aim is to grow at least in line with the market.
"Out of 18 quarters, we have had actually 16 consecutive quarters with solid top- and bottom-line improvement, and we have had two very disappointing quarters. And 2019, I will promise you, will be a year where we will show you that we are able to turn this around and we will come back and continue to deliver solid performance and also to prove that our strategy is right. We are in the right categories and the actions we are taking on both top-line initiative and cost initiatives will pay off."
In a note to clients issued this morning, Sanford Bernstein's Wood wrote: "We have worried in the past whether management cared enough about its bad performance, so it was somewhat consoling to hear CEO Ruzicka express his dissatisfaction with the results. However, a major problem is that his credibility, along with that of his CFO and the whole team, is at such a low level, that investors will likely not care what he says or promises…but only what he does.
"We hope – and believe – that 2018 was the nadir and that 2019 will improve on the top-line, margin, working capital and EPS. We also hope 2019 will be the definitive inflection point, leading to further improvements in 2020, rather than temporary relief helped by easy comps.
"We remain convinced that Orkla has outstanding potential for value creation, with reasonable organic growth and opportunities for major margin expansion and working capital reduction, which should be achievable with the right management team. We understand the concerns of some investors who are questioning whether this is indeed the right management team for Orkla…2019 is the year for management to prove that it is."