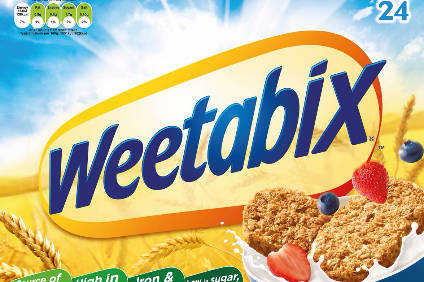 Staff set to strike at Weetabix over changes to shift patterns have postponed their plans for industrial action and are to vote on a new offer from the UK breakfast cereal group.
Last month, employees voted to walk out at two sites on unspecified dates this year following what union leaders called a "breakdown" in talks with the cereal maker over the introduction of a new shift pattern.
In a statement this week, Ed Leach, area organiser at the Usdaw union, said: "Following the overwhelming vote in favour of industrial action, the company immediately contacted me to seek further talks on suitable financial incentives for employees who have moved shift or will be expected to move onto the new 24/7 shift pattern. We welcome the company's positive engagement with us to seek a solution that will avoid the industrial action backed by our members. They have listened to staff and brought forward an improved offer, which we are balloting members on."
Over the weekend, the takeover speculation surrounding Weetabix intensified, with reports a number of multinational food companies were interested in the business, which is majority-owned by China's Bright Food.
The Sunday Telegraph reported Nestle and General Mills had registered their interest in Weetabix through their international breakfast cereal venture Cereal Partners Worldwide.
PepsiCo, the owner of the Quaker cereal brand, was also said to be eyeing the prospective sale of Bright Food's 60% stake in Weetabix, the report said. Yildiz Holding, through its UK-based subsidiary Pladis, was also said to be monitoring the situation. However, Pladis subsequently told just-food it was not interested in the business.
The Daily Mail reported on Saturday Italian pasta giant Barilla was in talks to buy Bright Food's shareholding, which the state-backed Chinese group acquired in 2012.
Nestle declined to comment when approached by just-food. PepsiCo and Barilla have not returned requests for comment.