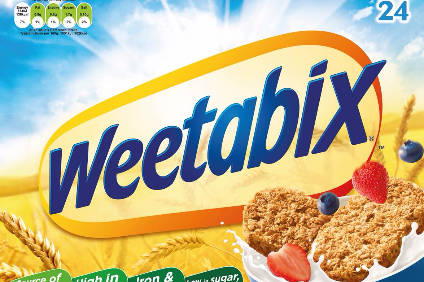 Weetabix, the UK-based breakfast cereal business owned by China's Bright Food, is reportedly attracting interest from a number of food multinationals.
The Sunday Telegraph reported yesterday (22 January) Nestle and General Mills have registered their interest in Weetabix through their international breakfast cereal venture Cereal Partners Worldwide.
PepsiCo, the owner of the Quaker cereal brand, is eyeing the prospective sale of Bright Food's 60% stake in Weetabix, the report said. Yildiz Holding, through its UK-based subsidiary Pladis, is also said to be monitoring the situation.
The Daily Mail reported on Saturday Italian pasta giant Barilla was in talks to buy Bright Food's shareholding in Weetabix, which the state-backed Chinese group acquired in 2012.
Weetabix, Barilla, PepsiCo and Pladis have yet to respond to requests by just-food for comment.
Bright Food acquired 60% of Weetabix from private-equity firm Lion Capital in 2012, with an eye on building the UK group's presence in Asia, particularly China. In 2015, Baring Private Equity Asia bought the remaining 40% Lion Capital held in Weetabix.
Two years ago, reports emerged Bright Food was considering floating Weetabix and another of the Chinese group's food business, Australian group Manassen Foods. Bright Food snapped up 75% of Manassen in 2011.
Reports Bright Food was looking to offload its stake first emerged just before Christmas.
Citing three unnamed sources, Reuters reported Bright Food had hired Goldman Sachs to offload its stake in Weetabix.