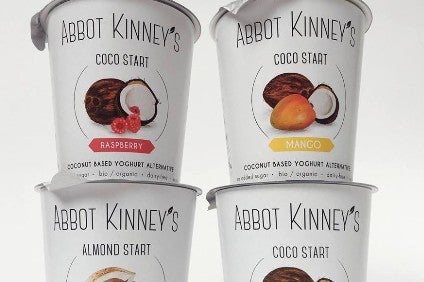 Dutch healthy food group Wessanen has acquired local plant-based dairy alternative company Abbot Kinney's for an undisclosed sum.
Founded in 2014, Amsterdam-based Abbot Kinney's specialises in products such as organic almond and coconut-based yogurt alternatives and ice-cream.
Wessanen, the maker of Kallo rice cakes and Whole Earth peanut butter, has a dairy alternatives business that until now, for the larger part, consisted of ambient drinks.
Christophe Barnouin, CEO of Wessanen, said: "Driving the change to plant-based food is the essence of our strategy. The acquisition of Abbot Kinney's is a further step in accelerating growth and innovation in our core categories. Beyond drinks, the segment of plant-based yogurt alternatives and ice cream is an excellent and so far mostly untapped growth opportunity for us.
"Abbot Kinney's is a fast-growing and innovative brand that has developed a range of strong products which we believe will thrive within the Wessanen family."
Jimme Slippens and Gijs van Maasakkers, founders of Abbot Kinney's, said in a joint statement: "We are very enthusiastic about joining forces with Wessanen. The past years we have worked hard to establish a brand that believes in an organic and plant-based future of food; important beliefs that we also found at Wessanen.
"With a mission to make plant-based dairy alternatives mainstream, we are certain that joining the Wessanen family will make Abbot Kinney's the leading brand in plant-based dairy alternatives innovation in Europe."