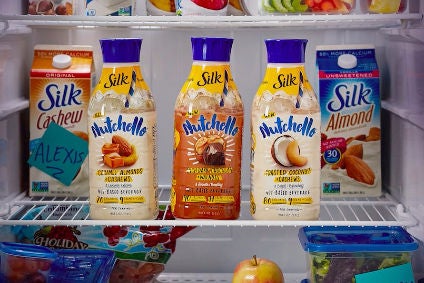 WhiteWave Foods is targeting "break time" with Nutchello, a new addition to its Silk brand in the US.
The nut-based beverage contains 90 calories per servings and comes in three varieties: caramel almond cashew, dark chocolate walnut and toasted coconut cashew.
Nutchello is free of dairy, artificial flavours or colours and high-fructose corn syrup.
"At Silk, we're passionate about building a better future through plant-based foods and beverages," said Rebekah Lyle, marketing director. "We are proud to bring a delightful new plant-based option to the market for those seeking a delicious break in their day."
Nutchello will be available at grocery stores nationwide for a suggested retail price of US$4.49.
Earlier this month, WhiteWave foods revealed sales grew by 13% in 2015. Speaking at the recent Consumer Analyst Group of New York conference, management insisted that strong top line growth can be maintained through a focus on innovation in on-trend areas such as sustainable, healthy and plant-based foods.