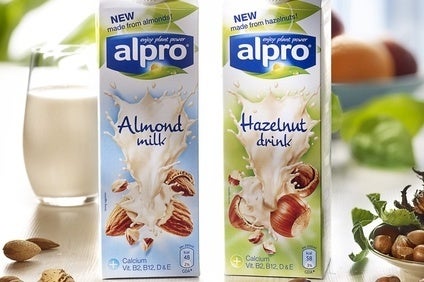 Horizon and Alpro owner WhiteWave Foods saw its shares climb today (12 February) after the US group's fourth-quarter sales beat analyst forecasts.
WhiteWave posted a 34% jump in net sales to US$911m for the three months to the end of December, pointing to "strong organic growth" and the impact of recent acquisitions Earthbound Farms and So Delicious. Barclays Capital analyst Andrew Lazar had predicted growth of 32%.
The company saw net income leap 67% to $33m, with operating income more than doubling from $31m to $72m.
Adjusted for items including a mark-to-market adjustment on commodity hedges, integration charges related to acquisitions and asset disposal costs, net income rose 13% to $44m, with operating income up 43% at $87m.
"Our fourth-quarter results were a very strong close to a record year at WhiteWave. We generated robust organic growth driven by outstanding performances across all of our legacy businesses," chairman and CEO Gregg Engles said.
WhiteWave did forecast earnings per share for the first quarter of 2015 that were lower than analyst estimates. It estimated EPS would hit $0.20-0.22, compared to analyst forecasts of $0.24.
For 2015 as a whole, WhiteWave expects adjusted diluted earnings per share of between $1.08 to $1.12, based on current foreign exchange rates, excluding investments in its recently-launched China joint venture. The consensus forecast among analysts is for EPS to hit $1.13.
It forecast annual a "mid-to-high teens" increase in adjusted operating income percentage growth on a reported basis, based on current foreign exchange rates.
WhiteWave also said it expects net sales percentage growth in the "high single-digits" for first quarter and in the "high-single to low-double digits" for 2015. Lazar said he forecasts growth of 11% this year.
Lazar said: "4Q results appear solid to us, and the full year 2015 outlook is only modestly below consensus – primarily due to FX – thought some may be more troubled by the cadence of EPS by quarter, with 1Q results expected to be below current street views. We still believe more investors are looking for opportunities to own the stock than not."
WhiteWave's shares were up 6.72% at $37.93 at 11:43 ET.