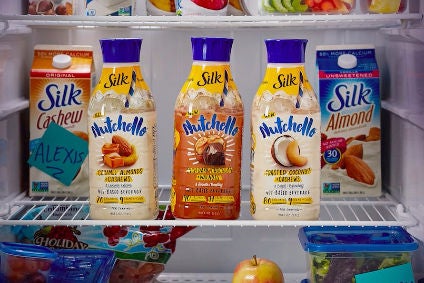 WhiteWave Foods, the US group behind brands including Silk and Alpro, today (10 May) lifted its forecast for annual earnings per share and for underlying operating profit.
The new forecasts came alongside first-quarter results that included a 14% rise in net sales, a 20% increase in operating income and a 28% jump in net income.
The company estimates its adjusted earnings per share diluted – excluding the cost of the group's investment in China – to hit US$1.38 to $1.41 a share in 2016, up from its February forecast of $1.33 to $1.37. On a constant-currency basis, WhiteWave is forecasting adjusted EPS of $1.42 to $1.45, compared to its earlier estimate of $1.38 to $1.42.
WhiteWave did not provide specific figures in its forecasts for operating profit. However, the group signalled it now expects annual adjusted operating profit to grow faster in 2016 than it had previously announced. WhiteWave expects to book adjusted operating income percentage growth "in the low twenties" on a constant-currency basis, or a rate between the "high-teens" to 20% on a reported basis, based on current foreign exchange rates.
In February, when WhiteWave presented its initial forecasts for 2016 alongside its 2015 results, the company predicted adjusted operating income percentage growth "in the high-teens to low-twenties" on a constant-currency basis, or a rate in the "mid to high-teens" on a reported basis.
As WhiteWave did in February, it cited the "realisation of internal production capacity increases and cost reduction initiatives, further scale leverage, and increasing levels of contributions from completed acquisitions" as factors behind its predicted growth in adjusted operating profit.
WhiteWave tweaked its forecast for annual net sales on a reported basis, predicted its top line would grow between 10.5% and 11.5%. Three months ago, the company estimated net sales would increase 10-11%. The company's constant-currency forecast for net sales to rise 11-12% was unchanged. It continues to expect constant-currency net sales to grow "in the high single-digits" on a constant-currency in 2016.
In the first quarter to 31 March, WhiteWave's net sales hit $1.04bn, up 14% from the first quarter of 2015.
Operating income grew 20% to $84m. Net income stood at $43m, up 28% on a year earlier.
"We are off to a very good start in 2016, delivering results ahead of our expectations with healthy topline growth and operating performance," chairman and CEO Gregg Engles said. "Our robust organic constant currency sales growth in the first quarter was driven by strong growth across our legacy platforms in traditional retail outlets, along with increasing contributions from away-from-home channels and our growing international presence. Our Vega and Wallaby acquisitions also continued their robust growth trends, positively impacting our results as well. Our strong start to the year has led us to increase our guidance for full year 2016."