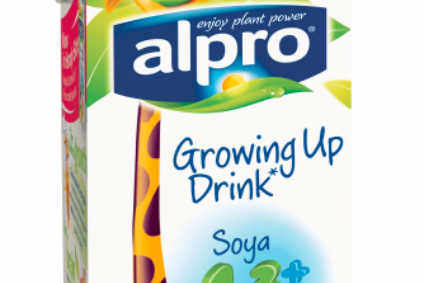 WhiteWave Foods is launching a fresh soya-based toddler milk under its Alpro brand in the UK.
The Alpro Soya Growing Up drink is being rolled out in Tesco stores throughout the UK now, a spokesperson for the company told just-food. It is available in one-litre cartons. An ambient variant was launched in 2013.
Vicky Upton, head of marketing for Alpro in the UK and Ireland, said the drink is "nutritionally tailored" for toddlers from one year upwards.
"It's low in sugars, plant-based and naturally lactose-free, making it a great option for parents of children with lactose intolerance. It also provides little ones with key nutrients needed for normal growth and development, including calcium, vitamin D and protein," Upton said.
Alpro stressed that, according to research from Mintel, 6-8% of UK children have an allergy. "We've launched this product into the chilled aisle to respond to demand from the growing number of shoppers who are seeking nutritionally-sound "free from" products that their children will actually enjoy. Our Soya Growing Up drink can be drunk hot or cold, and is ideal for cooking with too – so it's a really versatile choice," Upton added.
WhiteWave Foods agreed to a US$12.5bn takeover bid from Danone this summer.
The US group said last month it expects the deal to be completed in the first quarter of next year, instead of their initial expectations for it to be sealed by the end of 2016, as the company is still working with anti-trust officials in the US and the EU.