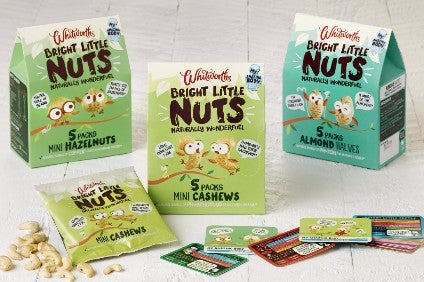 Whitworths has launched Bright Little Nuts, a range aimed at children as the UK dried foods supplier aims to encourage healthier, natural choices among the young.
The company is offering three varieties: Almond Halves, Mini Cashews and Mini Hazelnuts in 20 gram packs. They will also each feature collectable My Amazing Body cards, featuring quizzes, facts and games covering health and development.
To cater to youngsters, the individual nuts are either halved or are small in size. The multipacks will be available this month in UK supermarkets from GBP2.59 (US$3.4).
Speaking of the new range, marketing director Phil Gowland said: "At Whitworths we're really excited to unveil this important, first of its kind, product to our range. There's a real gap in the market for a snacking product which is packed with good stuff that isn't boring, and can make life that little bit easier for parents looking to give their kids a healthy snack in between meals."
Whitworths was acquired by Turkish wholesaler Anatolia in July for an undisclosed sum.