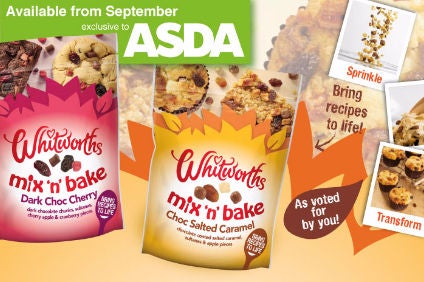 Whitworths, the UK supplier of dried fruit, nuts and seeds, is launching a range of mixes designed to make baking more convenient.
The Mix 'n' Bake range, which will be available exclusively in Asda stores in the UK from next month, "expertly combines natural ingredients with tasty indulgences" that can be added to any cookie, flapjack, cupcake or brownie recipe "to infuse bakes and bring that irresistible flavour to life".
Mix 'n' Bake comes in two flavours: choc salted caramel – a combination of salted caramel cubes encased in milk chocolate, soft dried apple pieces and sultanas – and dark choc cherry, a blend of dark chocolate chunks, cherry berries, cherry apple pieces and raisins.
Whitworths said the flavours being brought to market were selected following a consumer vote on the group's social media channels.
Phil Gowland, Whitworths' head of marketing, said: "Mix 'n' Bake was developed as a result of extensive market research as well as a public vote on our social channels, so we're confident that it will be a popular addition to kitchens across the country."
He added: "Many people wish that they had more time to get in the kitchen and bake for themselves, recreating delicious recipes passed on from friends and family. Our aim at Whitworths is to encourage more people to get baking by making it easier and quicker, without compromising on quality and taste."
Private-equity firm Equistone Partners acquired a majority stake in Whitworths in 2013. Equistone bought the stake from European Capital in a transaction valuing the business at GBP90m (US$137.1m).