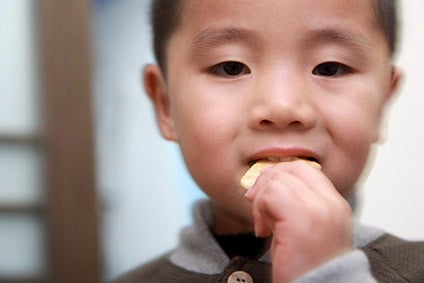 The World Health Organization (WHO) has claimed a high proportion of commercially-sold baby foods are incorrectly marketed as suitable for infants under the age of six months, arguing many contain "inappropriately high" levels of sugar.
The WHO is now calling on its member states to take action on the issue.
The study collected collect data from 7,955 food or drink products marketed for infants and young children from 516 stores in four cites in the WHO European Region (Vienna, Sofia, Budapest and Haifa) between November 2017 and January 2018.
In all four cities, a proportion of the products – ranging from 28% to 60% – were marketed as being suitable for infants under the age of six months.
In three of the cities, half or more of the products provided more than 30% of the calories from total sugars. Around a third of the products listed sugar, concentrated fruit juice or other sweetening agents as an ingredient. These added flavours and sugars could affect the development of children's taste preferences by increasing their liking for sweeter foods, the WHO argues.
Although foods such as fruits and vegetables that naturally contain sugars are appropriate for infants and young children, the very high level of free sugars in puréed commercial products is also cause for concern, it said.
The WHO's long-standing recommendation states children should be breastfed, exclusively, for the first six months. Its 2016 global Guidance on Ending the Inappropriate Promotion of Foods for Infants and Young Children explicitly states commercial complementary foods should not be advertised for infants under six months of age.
Dr Zsuzsanna Jakab, WHO regional director for Europe, said: "Good nutrition in infancy and early childhood remains key to ensuring optimal child growth and development, and to better health outcomes later in life – including the prevention of overweight, obesity and diet-related non-communicable diseases (NCDs)."
Dr João Breda, head of the WHO European Office for the Prevention and Control of Noncommunicable Diseases, added: "Foods for infants and young children are expected to comply with various established nutrition and compositional recommendations. Nonetheless, there are concerns that many products may still be too high in sugars."
Calling for its member countries to implement measures to deal with this issue, the WHO said: "Action is required by member states, with the support of the WHO Regional Office for Europe, to implement WHO's guidance in order to prevent promotion of nutritionally inappropriate products and/or use of inappropriate promotional techniques."
It suggested a "nutrient profile model" that establishes nutrient thresholds for nutritionally appropriate foods for infants and young children should inform national and regional discussions on legislation and policies relating to these products."
"It is particularly important to address the issue of high total sugars, use of sweet ingredients and misleading names (i.e. savoury-sounding products that contain lot of fruit and high total sugars)," it said.
"Sugar, fruit juice, concentrated fruit juice and other sweetening agents should not be added to foods for infants and young children. Consideration also needs to be given to whether the addition of fruit puree (to foods with other ingredients) should be limited in some categories of food, as some countries consider fruit purees to be free sugars."
It also suggested labelling of foods for infants and young children needs to be improved and has called on manufacturers and retailers to comply with WHO guidance.
just-food asked Specialised Nutrition Europe (SNE), a member of the European food industry organisation FoodDrinkEurope, for a response to the WHO report.
A spokesperson for the organisation said: "SNE acknowledges the release of the two WHO reports on commercial foods for infants and young children.
"We believe that it is essential that infants and young children receive the necessary nutrients at appropriate levels to help set them on a path to a long, healthy life. Baby foods play an important role in the growth and development of babies during the transition towards family foods. Strict rules are established to ensure the safety and nutritional quality of these foods."