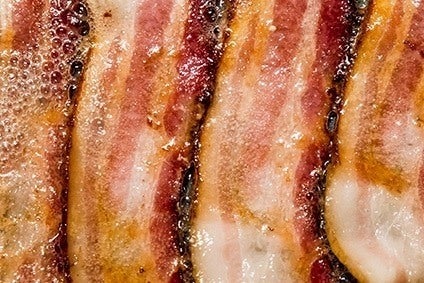 The World Health Organization's report on the possible links between colorectal cancer and processed and red meats sparked headlines around the world – and fierce debate between industry and health campaigners. just-food gives a flavour of the reaction.
"It was clear sitting in the IARC meeting that many of the panellsts were aiming for a specific result despite old, weak, inconsistent, self-reported intake data. They tortured the data to ensure a specific outcome" – Betsy Booren, vice president of scientific affairs, at the North American Meat Institute.
""For an individual, the risk of developing colorectal cancer because of their consumption of processed meat remains small, but this risk increases with the amount of meat consumed. "In view of the large number of people who consume processed meat, the global impact on cancer incidence is of public health importance" – Dr Kurt Straif, head of the IARC monographs programme.
"If you got everything that the WHO said were carcinogenic and took it out of your daily requirements, well, you are kind of heading back to a cave" – Barnaby Joyce, Australia's agriculture minister, speaks to the country's ABC radio.
"IARC isn't saying eating red and processed meat as part of a balanced diet causes cancer: no single food causes cancer. Nor is it saying it's as dangerous as smoking, which Cancer Research UK has pointed out. IARC itself has said that the risk from processed meat remains small. The government looked at the same evidence in 2010 and recommended people eat no more than 70g of red and processed meat a day: and that's exactly what the vast majority of us are eating. The government has already said that this advice is not changing" – Maureen Strong, nutrition manager at the AHDB.
"This should be a wake-up call that our diets urgently need to change. Evidence shows that high meat diets not only harm our health, they damage our environment too. Experts have warned that unless we eat less meat globally, we will fail to meet our climate change targets. Polls show that consumers are willing to eat less meat, and now this research should shake the UK government into bold action. The UK government should do more to help people access healthy, sustainable diets, with less and better quality meat" – Friends of the Earth's senior food campaigner Clare Oxborrow.
"Official bodies, medical societies and experts recommend the consumption of every single group of foods in order to have a healthy, varied and well-balanced diet, including a moderate consumption of meat products. There is extensive scientific evidence to prove the benefits of meat consumption within a healthy diet. Meat and meat products are an essential source of nutrients. They are an extraordinary source of proteins of high biological value, as well as a great source of essential amino acids; vitamins of the B group like B12 vitamin, which contributes to the regular functioning of the immune system and minerals like iron, which helps to reduce tiredness. Therefore, meat and meat products have a very interesting nutritional value, hardly replaceable by any other products in our daily intake" – the Liaison Centre of the European Associations of Meat Manufacturing Industries (CLITRAVI).
"This latest authoritative evidence from the World Health Organization's International Agency for Research on Cancer provides yet more compelling reasons to eat less and better meat. Not only would eating less meat, particularly high levels of processed meat, help prevent cancer, it would also help prevent dangerous climate change, stop more animals being kept in factory farms and help us feed the world more fairly" – UK NGO Eating Better.
"Red and processed meat are among 940 agents reviewed by IARC and found to pose some level of theoretical hazard. Only one substance, a chemical in yoga pants, has been declared by IARC not to cause cancer" – the NAMI's Booren.
"This solid and reasoned assessment, based on a comprehensive review of the scientific evidence, should guide the U.S. Departments of Agriculture and Health and Human Services as they finish writing the 2015 Dietary Guidelines for Americans. Sadly, IARC's report has already provoked new hysteria from the meat industry and is likely to stir up its allies in Congress. They will follow the playbook of all industries that feel they are under attack – asbestos, tobacco, and coal are three that come to mind—and shout from the rooftops that the science is in doubt. It's not" – Bonnie Liebman, nutrition director at US consumer watchdog the Center for Science in the Public Interest.
"The report released by WHO is certainly enlightening. We, at Gardein, have always believed that plant nutrition is inherently more healthy for people – and much kinder and gentler on the environment. In addition to the health facts from the WHO we know that it takes 52.8 gallons of water, 6.7 pounds of grain and 1,036 BTUS of fossil fuel to make just 1/4 pound beef patty. By creating products with incredible taste, we have given people viable choices and diverse options to eating meat" – Yves Potvin, founder and president of North American meat-free business Gardein, owned by Pinnacle Foods.
"Cancer is a complex disease that even the best and brightest minds don't fully understand. Billions of dollars have been spent on studies all over the world and no single food has ever been proven to cause or cure cancer. The opinion by the IARC committee to list red meat as a probable carcinogen does not change that fact. The available scientific evidence simply does not support a causal relationship between red or processed meat and any type of cancer" – Shalene McNeill, executive director for human nutrition research at US industry group National Cattlemen's Beef Association.