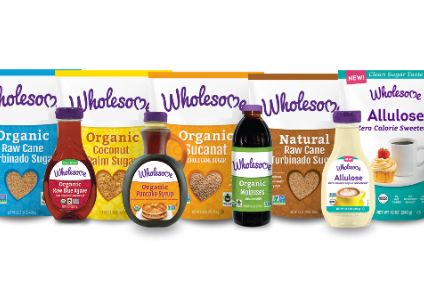 Whole Earth Brands, the US sugar and sweeteners supplier, has made another acquisition, striking a deal to buy WSO Investments, the company behind the Wholesome Sweeteners brand.
Formed this summer after merging with Flavors Holdings' subsidiaries Merisant Company and MAFCO Worldwide, publicly-listed Whole Earth Brands said it had agreed to pay an "initial" US$180m for WSO Investments, the holding company for Wholesome Sweeteners Inc.
Last month, Whole Earth Brands announced a move to buy US sweeteners and baking mixes firm Swerve, its first acquisition as a public company.
Whole Earth Brands said it expects the deal to buy WSO Investments will be finalised in the first quarter of 2021, pending regulatory approval.
Wholesome Sweeteners Inc. is "the US leader in organic, plant-based and fair-trade certified sweeteners", Whole Earth Brands said in a statement today (17 December) to announce the deal. The company's portfolio includes sugar, honey and agave nectar.
Citing SPINS data, Whole Earth Brands pointed to the 76% share of the US organic granulated sugar category Wholesome Sweeteners Inc. holds in the country's organic and natural channel. Whole Earth Brands, pointing to figures from Nielsen, said the US market for organic sugar was growing at 1.5 times the rate of the market for the conventional alternative.
It also cited Wholesome Sweeteners Inc.'s 52% jump in retail sales during the 52 weeks to 1 November.
"Wholesome's leading position in organic sugar, honey, agave and allulose is a perfect complement to our existing portfolio of natural and alternative sweeteners. This transaction brings us additional scale that we believe will enhance our competitive position and help us expand consumers' access to the delicious foods they love," Whole Earth Brands CEO Albert Manzone said.
Under the terms of the deal, Wholesome Sweeteners Inc. will receive $180m in cash and is eligible to receive up to another $55m through to the end of calendar year 2021.
The initial price of $180m is around 7.8 times Wholesome Sweeteners Inc.'s 2020 estimated adjusted EBITDA, Whole Earth Brands said. The company added it expects to generate "commercial synergies in North America and through launching Wholesome Sweeteners Inc.'s products across Whole Earth Brands' global footprint".
Whole Earth Brands is also looking to "realise cost synergies through supply chain integration over the coming two years as well as general overhead savings".
Wholesome Sweeteners Inc. CEO Nigel Willerton said: "The Wholesome brand was built on a mission of supporting farmers and to date has paid nearly $23m in Fair Trade premiums. We share a common vision with Whole Earth Brands – to support consumers' health and wellness goals by providing innovative products that they can feel good about and enjoy. Our extendable brands create opportunities for significant growth through channel, product and category expansion. This combination with Whole Earth Brands brings together like-minded companies with complementary strengths to unlock powerful value in the organic and natural category."