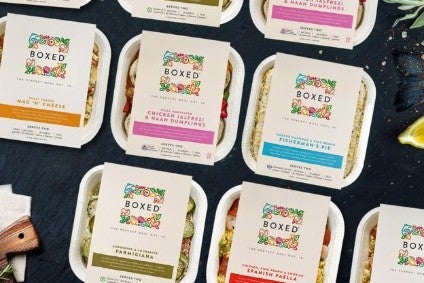 just-food publishes the most notable product development from the international food sector, presented in bitesize format to give you a flavour of the innovation from your peers and competitors announced this week.
Freedom Foods Group to launch A2 line in Australia's Own push
Australia-based Freedom Foods Group is to try to tap into interest in dairy products that do not contain the A1 protein with its latest range of milks sold under its Australia's Own brand.
This year, Freedom Foods Group plans to launch a range of Australia's Own liquid milk and cream products sold in UHT format.
It expects the new products will be listed in Australia, China and markets in south-east Asia from May.
Notably, the new range will include liquid milk containing only the A2 protein and not the A1 protein said to cause discomfort for some consumers.
Freedom Foods said the Australia's Own A2 Protein milk will be sold in "major Australian retailers" and the only product of its kind sold in UHT format in the country.
New Zealand-based A2 Milk Co. has built a business on offering a range of dairy and infant-formula products that do not contain the A1 protein. Last week, when A2 Milk Co. announced its latest set of solid financial results – and a new partnership with Fonterra – the company briefly became New Zealand's largest listed company as its shares soared.
Freedom Foods was a shareholder in A2 Milk Co. but sold its stake in 2015.
… and Freedom Foods Group to launch Messy Monkey brand in US
Australia's Freedom Foods Group is to add to the range of products it sells in the US with the launch of the Messy Monkey cereal and snacks brand on sale in its domestic market.
Announcing its half-year results this week, Freedom Foods disclosed plans to launch Messy Monkey Stateside, as well as its MilkLab coffee milk product "in targeted cities in the USA over the next 12 months".
Asked by just-food when and which specific Messy Monkey products would be launched, Freedom Foods simply said: "Launched at [trade show] Expo West, into selected retailers from May 2018."
William Jackson 'Boxed' frozen meals hit Tesco
The UK's William Jackson Food Group is launching its Boxed range of frozen prepared meals complete with recyclable packaging made from craft board.
Boxed will arrive on the shelves of Tesco on 12 March at a recommended retail price of GBP7 (US$9.6).
Prepared with natural ingredients, no additives or artificial colours, Boxed will be available in five flavours: Tikka Marinated Chicken Jalfrezi with Naan Dumplings; Aubergine & Courgette Parmigiana; Smoked Haddock & King Prawn Fisherman's Pie; Mac & Cheese; and King Prawn, Chicken & Chorizo Paella.
Each meal is designed to serve two people.
Chief executive Norman Soutar said: "We saw an exciting opportunity to introduce premium meals to the freezer aisle and developed Boxed. Freezing is a great way to naturally preserve food and Boxed gives consumers the best of both worlds – convenience plus tasty ingredients frozen at their best – and we're delighted to be adding the brand to the family."
Kraft Heinz rolls out new breakfast brand
Kraft Heinz has launched a product targeting breakfast in the US.
The company has unveiled Just Crack an Egg, a product – sold in a pot – to which consumers add an egg and microwave for a savoury egg scramble.
Each individual serving cup contains a combination of diced vegetables, breakfast meat, cheese shreds and potatoes – the latter three of which Kraft Heinz is marketing under its Oscar Mayer, Kraft Natural and Ore-Ida brands.
"We know that consumers aren't happy with their current weekday breakfast options, and we saw an opportunity to reignite consumers' love of a hot, filling breakfast," Greg Guidotti, the head of marketing for the new brand. "Too often, their busy lives force them to make compromises and trade-offs around breakfast when it comes to taste, convenience and freshness."
The products have a recommended price of US$2.49 a pot.
Piccolo unveils Mediterranean-inspired baby food pots
UK baby food start-up Piccolo has launched a range of split pot, Mediterranean-inspired meals, based around textured grains with a vegetable sauce.
The Piccolo Pots range will launch with three initial recipes, Quinoa with Vegetable Ratatouille; Baby Pasta with Vegetable & Kale Pesto and Baby Pasta with Sweet Potato Bolognese before additional recipes are rolled out later in the year.
Piccolo suggests the split pots ensure the vegetables retain their nutrients whilst the grains keep their texture – something that is vital for babies' development
After winning a listing in Tesco for the first time, Piccolo's new range will be stocked in all Tesco Super and Extra stores.
Piccolo founder, Cat Gazzoli, said: "It has long been our ambition to help parents moving on from baby purees to the next step in weaning, and we have worked very hard to develop our new range of Piccolo Pots. By using the innovative split pot packaging, we have ensured our meals retain maximum nutrition and texture."
The Piccolo Pots range will be available from Tesco, Waitrose and Morrisons and via Ocado from March with an RRP of GBP2.79.
London-based Piccolo was founded in 2016.
Arla debuts organic milk in Saudi Arabia
Arla Foods has extended its footprint in the Middle East with the launch of its branded organic milk in Saudi Arabia, months after debuting the product in the UAE.
The European dairy giant said its entry into Saudi Arabia is part of its "ambitious business strategy to become the number one organic dairy brand in the Middle East and North Africa by 2020".
Arla's organic milk landed in the United Arab Emirates in September and the company has plans to take it to Lebanon and Kuwait "in the near future".
The organic food market in the six-member Gulf Cooperation Council is expected to reach US$1.5bn in 2018, growing at a compound annual growth rate of 19.5% from US$300m in 2009 due to changing consumer tastes and habits, according to Al Masah Capital data cited by Arla in its launch announcement.
"We are seeing a rise in demand for organic products in the Middle East, particularly in Saudi Arabia where retailers have shown a growing interest in stocking organic produce," said Kim Villadsen, managing director of Arla's business in Saudi Arabia.
Camelicious launches world's first camel milk baby formula
Camelicious has launched the world's first baby formula made with camel's milk.
Designed for children aged from one to three years, Camel Milk has ten times the amount of iron as other types of milk and is rich in calcium. It contains the vitamins C, B1 and B2, and its thiamin content is higher than is found in sheep, goat or cows milk.
Saeed Juma Bin Subaih, general manager of The Emirates Industry for Camel Milk & Products, known as Camelicious, said: "The Camel Milk represents an integral part of the Arabic and Islamic culture in general and the UAE culture and heritage in particular."
Deputy general manager Mutasher Awadh Al Badry, added: "We had dedicated ourselves to develop a special formula to be the world's first instant baby milk processed from camel milk in cooperation with international pioneers in [the] baby milk industry."
Alpro yogurts hit Spain
Danone has rolled out Alpro-branded yogurts into Spain, adding to its push on the line.
The yogurts join the Alpro milk alternative drinks already on sale in Spain.
The French food giant, which acquired Alpro owner WhiteWave Foods last year, launched the yogurts in its home market earlier this month.
Looking at the Spanish market, Danone said the plant-based yogurt segment was "underdeveloped" compared to the plant-based beverage segment.
It is launching a 500g pot designed for breakfast and a four-pack of 125g yogurts. It is also rolling out two "dessert" varieties.