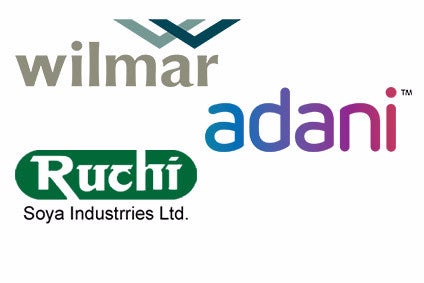 Singapore-based agri-food group Wilmar International and two Indian businesses – Adani Enterprises and Ruchi Soya – have set out plans for a venture to "create one of India's leading FMCG companies".
Wilmar and Indian conglomerate Adani, through their Adani Wilmar venture, and edible-oil-to-soy-foods group Ruchi Soya are to combine to market and distribute products including vegetable oils, soya foods, grains and biodiesel. Both the Adani Wilmar venture and Ruchi Soya will manufacture for the new venture.
The Adani Wilmar venture will own 66.66% of the new entity, with Ruchi Soya holding the remainder.
The companies said the move would be more efficient for India's farmers and provide more products for the country's consumers.
"The proposed partnership between Adani Wilmar and Ruchi will have a positive impact on the overall agricultural landscape of India," Gautam Adani, chairman of Adani, said. "Our current partnership with Wilmar has been successful due to a solid combination of Wilmar's strategic outlook and experience in the international food business, coupled with our domestic operational expertise. We look forward to take the next leap forward with the Ruchi family through this new joint venture."
Adani, which operates in the natural resources, logistics and energy sectors, set up its existing venture with Wilmar in 1999. The Adani Wilmar venture focuses on areas including palm oil, oilseed crushing, edible oil refining, sugar milling and grain processing. It markets edible oils under brands like Fortune, as well as selling food including soya, pulses and basmati rice.
Kuok Khoon Hong, chairman and CEO of Wilmar said the new venture with Ruchi Soya would be "well-positioned to leverage on its strong base in edible oils and capture a good share of this demand to become one of India's leading FMCG companies." He added: "We are very bullish on Indian demand for high quality food products due to population and economic growth."
Ruchi Soya MD Dinesh Shahra insisted the three companies would be able "to truly make a difference to the agricultural backdrop of the country". He said: "This joint venture will not only enable us to continue with our core manufacturing operations via toll processing arrangements, but also to capture the synergistic value by working closely together and learning from each other's experience to make things more lean and efficient."
The proposed transaction is subject to conditions including due diligence and regulatory approvals. The companies said "further announcements will be made at an appropriate stage".