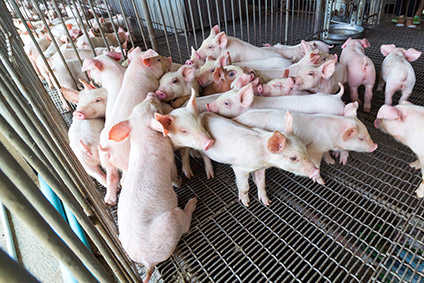 UK farmers and processors could reap GBP50m (US$69.1m) over the next five years as Mexico opens the gates to British pork for the first time.
Mexico now joins the Dominican Republic as the two single countries in Latin American to import pork from the UK, which shipped more than GBP421m worth of the meat to other global markets last year, according to the Department for Environment, Food & Rural Affairs (Defra).
Defra's Secretary of State George Eustice said in a statement today (2 September): "Access to the Mexican market, with its substantial demand for high-quality pork, will be a welcome boost for our pig farmers and producers. This is a significant development, which will reinforce our global reputation for quality food and drink."
The development coincides with a report from the UK's Food and Drink Federation showing a decline in the country's exports in the first half of this year, particularly to the European Union. However, outside of the bloc, shipments recovered, with Mexico a notable success with exports up more than 110%.
Dr Phil Hadley, the international market development director at UK-based the Agriculture and Horticulture Development Board (AHDB), which made the GBP50m prediction for British pork, said: "Today's announcement is a fantastic boost for the UK's pork industry and offers another potential export market for our red meat during a challenging year.
"Pork from the UK is trusted and favoured worldwide due to its exceptional quality, high welfare and food-safety standards. This new approval will offer a wealth of opportunities for our exporters and is a testament to the hard work of industry and government to open new markets as we look to the future."
The entry to Mexico follows more than four years of negotiations and inspections. The Mexican National Department for Health, Safety and Agricultural and Food Quality (SENASICA) inspected numerous premises throughout the UK during a visit which occurred in February 2020, which led to a decision to approve four processing facilities and four associated cold stores in England and Wales, Defra said.
It noted that the UK and Mexico have also committed to begin negotiating a free trade deal this year to build on the pork agreement.
International Trade Secretary Liz Truss added: "This is a huge win for our farmers and food producers and I look forward to seeing high-quality British pork being enjoyed in Mexico very soon. British businesses can look forward to the benefits of a new and ambitious trade agreement with Mexico which we will be negotiating this year."