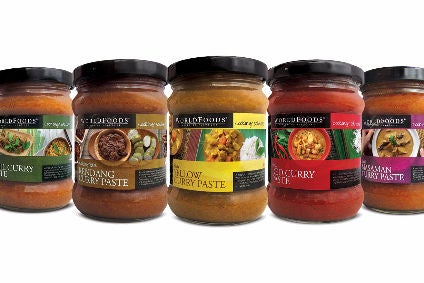 WorldFoods, the Thailand-based ethnic cuisine supplier, is in talks with UK multiples over possible for listings for a range of free-from pastes and sauces in the country.
The company has signed a distribution deal with UK-based distributor Tree of Life to handle the products and has secured listings at "at a number of health shops, independents and select Budgens outlets".
It added: "WorldFoods are in conversation with a number of multiples and hope this will translate to further listings."
WorldFoods is already a supplier of ingredients into the UK but, through Tree of Life, WorldFoods is pushing pastes, marinades and stir fry sauces. The company said its products are free from are fish, gluten, milk/lactose, nut and soya, as well as not including artificial colours, flavourings and preservatives.
"The free-from category is still showing double digit growth and we feel that there is a gap in the market for a great-tasting range of authentic Asian sauces. This range of pastes and sauces are made from fresh natural ingredients, which have been sourced locally and will stand out as unique in the Asian foods aisle and free from fixtures," WorldFoods said.