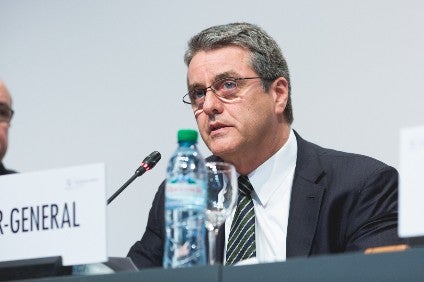 The World Trade Organization (WTO) has said its members need to work together to "step back from the brink" of an escalation in trade tensions in response to new US tariffs on steel and aluminium, which enter force this week.
Speaking in Delhi yesterday (19 March) at an event organised by the Confederation of Indian Industry, WTO director-general Roberto Azevêdo acknowledged the imposition of tariffs by the US and the subsequent announcements of potential retaliatory trade restrictive actions by other economies.
"I am talking to all sides to try to resolve this situation," Azevêdo told delegates. "We all need to work together to step back from the brink. Instead of escalating tensions, we need to find ways to resolve them constructively."
Earlier this month, US President Donald Trump decided to impose a 25% tariff on foreign-made steel and 10% for aluminium in response to a national security investigation he initiated last spring. The move was part of the Administration's second annual trade policy agenda, emphasising "aggressive" enforcement of US trade laws and limiting the role of the WTO.
Last week, in response, The European Commission released a draft list of products that could be subject to retaliatory EU safeguard duties, including sweetcorn, maize, kidney beans, rice and peanut butter.
Azevêdo emphasised to delegates in India the need for flexibility if countries are to move ahead and find a viable way forward.
"If members are not prepared to put themselves in others' shoes and seek compromises, then we have little hope to move forward. The approach that we have often seen of 'I get what I want or no one gets anything' is very destructive. It does not encourage flexibility or efforts to find common ground.
"Therefore, we need to find ways of increasing the levels of flexibility that we show to each other. And the system allows for different and very flexible approaches."
Azevêdo added that member countries need to keep strengthening the multilateral trading system. "We must ensure the system is robust, and that it is responsive to its members' needs and priorities."
He pointed to the need to continue negotiations on all issues, including those areas "where progress has eluded us" since the launch of the Doha Round, such as non-agricultural market access, services, development, TRIPS, rules, and trade and environment.
"If we want to make progress on these vital issues, we need to face up to the problems before us. The pledges of support for the system that we often hear need to be matched by deeds. A frank and meaningful dialogue on how we can move forward is essential."
Brussels' list is open for consultation until 26 March.