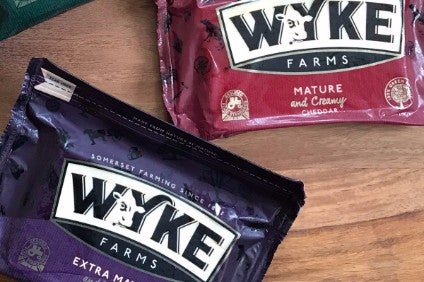 Wyke Farms, the UK's largest independent cheesemaker, has joined forces with the country's largest organic milk producer, The Organic Milk Suppliers Cooperative (OMSCo), to form The British Organic Dairy Company.
The organisations, both based in Somerset, suggest the collaboration will provide a more robust yet flexible operation for the production of key organic dairy products, to exploit opportunities or ride out uncertainties in a post-Brexit world.
The development comes after the pair announced their business partnership in July and publicly set out their intention to be the supplier of choice across the world for organic cheese, and premium cheese by-products by expanding organic cheese production, distribution and sales.
The creation of The British Organic Dairy Company means Wyke Farms will source all its milk requirements for organic cheese production from OMSCo, whilst OMSCo will increase its range of specialist organic cheese made by Wyke Farms for export markets, and also take a share in the ownership of bulk cheddar stocks for a proportion of domestic and export sales.
Rich Clothier, managing director and third generation family member at Wyke Farms, said: "This collaboration will create a solid platform to grow sales of organic dairy products and allow it to reach its potential in a growing world market, now and post-Brexit.
"This alliance brings together quality and excellence in organic dairy production."
OMSCo's managing director Richard Hampton said: "The partnership, within which we both have an equal share, provides us with a focus to grow organic dairy opportunities together.
"The launch of our business-to-business brand, 'The British Organic Dairy Company', is an exciting development and will enable us to facilitate the sales and marketing of our products under a joint brand identity.
"By working with Wyke Farms, the UK's largest independent cheese maker, we can provide a unique proposition to distributors and retailers and take advantage of growing markets."