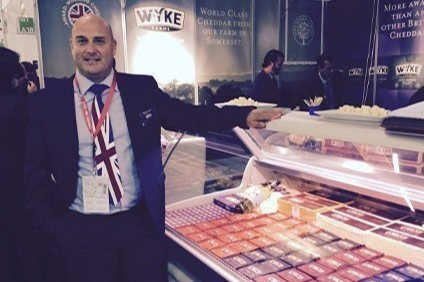 The boss of UK cheese maker Wyke Farms has called for a "new dawn" in trading relationships between dairy farmers, processors and retailers in the country after a period of turbulent milk prices.
MD Rich Clothier told just-food the challenges UK dairy farmers have been facing as a consequence of current milk price and market volatility and pressure from retailers have taken their toll, with some leaving the industry. "It's time to end the "Punch and Judy approach to trading, with each side beating up the other, because that is never going to work," he said.
Clothier said: "All it has led to is a shortage of supply. I think the industry has got to grow up now and look at a more mature way of buying our dairy products in the UK. The lead has to come from the retailers. We have got to get the retailers to be more long term about the way they do business, because they might gain in the short term, but in the long-term the supply base is unsustainable, which means the business is unsustainable."
Clothier said the UK market for Wyke's has "been really tough over the last two years mainly because of the milk issue". But he added: "The situation is lifting now and I'm hoping the milk being a bit shorter will give us a new dawn in trading relationships ."
The UK accounts for around 70% of Wyke's sales volume and the company is making stride in exports amid the difficulties at home.
Exports are set to account for around 25% of overall sales this year, an increase of ten percentage points on last year's performance, taking the firm closer to its goal of quadrupling the size of its international business over the next few years.
Clothier said exports to France, one of the company's biggest overseas markets, are worth more than GBP10m (US$12.4m), and Wyke's is consolidating its base there while stepping up efforts to expand the business further afield in regions such as Asia.
"We are exporting to India now and so the world is really opening up," Clothier said. Wyke executives were recently in India, he revealed. "We are finding that there are some 160m supposedly affluent people who are interested in products from the UK," Clothier said. "India is still very small and we have only recently started putting orders there, but we are optimistic that it could become one of our biggest regions. I feel there are opportunities for quality UK products around the world in a way that there has not been in the past."
Increasing exports is a key part of Wyke's current five-year plan. "We are two years into the current five-year period, but we review it all the time," Clothier said. "It's really important with exports not to be too rigid and react to the opportunities as they arise."
Clothier said once the "uncertainties" of Britain's post-Brexit trading plans have been settled, "there might be more opportunities to do further trade deals with really big economies like India".
Wyke's supplies retailers in France and other countries, including some outside the European Union, from its depot in France. "Everything we sell is marketed under the Wyke Farms brand and for us it's all about selling a premium product – Cheddar cheese from Somerset," where the family-owned business, near the village of Cheddar, has been making cheese to the same recipes for 150 years.
"Our products go into regions under EU certification, but how that will work after Brexit none of us yet know," Clothier said. Despite having an export-orientated five-year plan, "we can't say with any degree of certainty exactly how we are going to be trading after the UK has left the EU".
Clothier said the "most important" measure that should come out of the UK's Brexit negotiations from Wyke's point of view is a continuation of "open trading" with remaining EU countries. "We have to have common legislation with the EU on trading and keep the same open border policy, even if we end up paying some kind of a tariff for that."