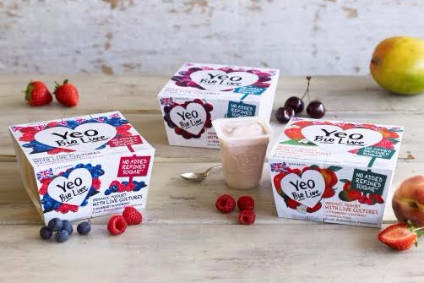 UK dairy manufacturer Yeo Valley has announced the launch of a range of sugar-free yoghurts in its home market.
Bio Live – an adult range of yoghurts – contains live cultures and no added refined sugar.
Each yoghurt contains less than 10% total sugars, Yeo Valley said.
"We believe that striking the perfect balance should be about making little changes to help you live a healthy and fulfilling life – without being a chore. When it comes to good food, our motto is 'great taste, the right way', which is why we're committed to reducing refined sugars in our products," the company added.
The range, which will be available from March, features five variants: blueberry and raspberry; fruit selection; cherry; strawberry; strawberry and rhubarb.
Bio Live will be sold in packs of four at "selected supermarkets" with an recommended sales price of GBP2.00 (US$2.89).
The strawberry SKU is made up of four strawberry yohurts. The blueberry and raspberry line, as well as the strawberry and rhubarb SKU comprises two of each flavour in the four-pack. The fruit selection product is one each of mango, peach, raspberry and strawberry.