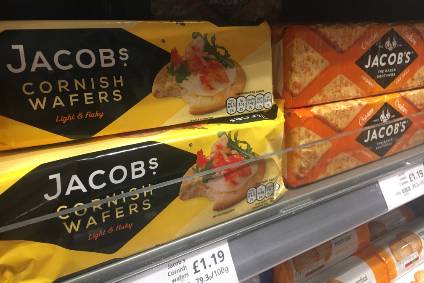 Yildiz Holding, the Turkish owner of brands including McVitie's and Ulker, has reportedly abandoned a plan for the time being to sell certain assets under conditions imposed in a debt restructuring deal.
Bloomberg had reported in February the Jacob's crackers brand, run by Yildiz's UK-based snacks firm Pladis, was destined for the chopping block, either in the form of a sale or a stake.
But now the news agency, quoting unnamed sources, has said that plan has been put on hold, along with efforts to sell the Yildiz frozen food unit Kerevitas Gida Sanayi ve Ticaret. However, Bloomberg has also noted a plan to dispose of assets outside of Yildiz's core food businesses, namely its mining and brick-making divisions, is still live.
The decisions have been made amid rising demand for packaged food during the pandemic that has enabled Yildiz to pay down debt of US$600m, bringing the total the company has repaid to Turkish lenders under a 2018 restructuring agreement to $2.6bn, according to Bloomberg, citing a statement from Yildiz.
Bloomberg's sources have said Yildiz is aiming for 10% sales growth this year by increasing production to meet the elevated demand from Covid-19.
Meanwhile, Yildiz has told the news agency it expects to post "double-digit growth" in sales this year from the TRY65bn ($8.7bn) recorded in 2019. However, the company declined to provide comment to Bloomberg on the change in stance over the asset disposals.
Kerevitas reportedly hired Morgan Stanley in December to assess options for the business, while Yildiz appointed Oppenheimer Holdings last year to offload the Jacob's brand and its production facilities in the UK. That information once again came from Bloomberg sources.
just-food has approached representatives for both Yildiz and Pladis requesting comment on all aspects of the disposal plans but only get a reply from Pladis. A spokesperson said it had no comment to make on the media reports regarding Jacob's.