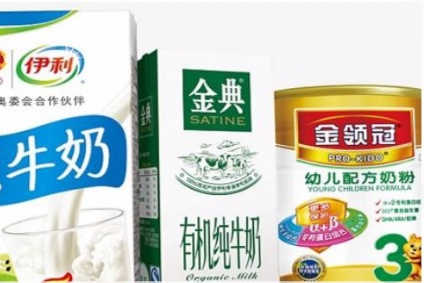 China's Yili has overtaken France's Danone as the world's most-valuable dairy brand, according to a new report.
Yili, or Inner Mongolia Yili Industrial Group to give the company its full name, has seen its annual brand value grow 13% to US$8.6bn, according to the Brand Finance Food & Drink 2020 report.
The report's authors point to Yili's expansion into new territories, "ratifying the brand's aim to build a global network and target two billion consumers by the end of 2020".
Domestically, Yili has invested $4.3bn in constructing a high-end organic dairy production base in Inner Mongolia, which is expected to generate 60,000 jobs, as well as stimulate local farming and logistics industries. Abroad, Yili set its sights on New Zealand, the report notes, acquiring the country's second-largest dairy producer, Westland Milk Products.
"Yili could see the gap ahead of Danone widen as the brand enjoyed formidable quarterly results, staging a strong rebound in the second quarter despite the pandemic's negative impact at the beginning of the year, Brand Finance, a London-headquartered brand valuation consultancy, said.
Yili also has the fifth most-valuable dairy portfolio. Nestlé once again leads the way, with a combined brand value of $12.6bn. Lactalis, at $11.7bn, and Danone, at $11.6bn claim second and third spots, respectively.
Savio D'Souza, valuation director at Brand Finance, said: "As a brand committed to continuous innovation in the industry, it is unsurprising that Yili has managed to continually achieve its expansion goals this year, even despite the Covid-19 pandemic.
"In the coming year, Yili's strong strategy of innovation is set to be the brand's core power for growth in the future."
The report also revealed that Nestlé dominates as the world's most-valuable food brand and boasts the world's largest food and drink brand portfolio with a cumulative value of $68.5bn.
D'Souza said: "Nestlé's response and resilience to the Covid-19 outbreak has demonstrated why the brand is truly a leader both on home soil and globally. Posting solid growth in a time of turmoil is testament to the agility and strength of the brand. With Brand Finance calculating that the food industry is one of the few sectors that should see limited impact from the pandemic, Nestlé certainly seems to be in a strong position to weather the storm."
The report also suggests Japan-based food brand Kikkoman, best known for its soy sauces, is "one to watch".
It has jumped 12 spots up the Brand Finance Food 50 ranking for 2020 from 34th to 22nd, growing by 36% to $3bn.
India's Amul is revealed as the fastest-growing dairy brand, increasing in value by 25% to $3.1bn.
Brand value is understood as the net economic benefit that a brand owner would achieve by licensing the brand in the open market.