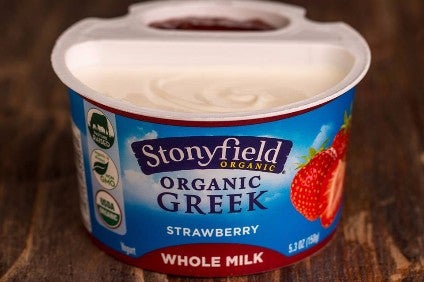 China's Inner Mongolia Yili Industrial Group Co. has confirmed it is lining up a possible offer for US organic dairy business Stonyfield from French dairy giant Danone.
News of a possible deal emerged this week, when The New York Post said it had been told by "sources close to the process" that Yili had bid around US$850m to buy Stonyfield, which Danone is selling as part of a deal with local regulators on the company's acquisition of US food and beverage group WhiteWave Foods.
A spokesperson for Danone told just-food yesterday (10 May) the group would not be commenting on the report.
However, in a stock exchange filing, Yili has said it is in "the preparatory stage" of the process but had yet to make a formal bid.
Dean Foods, the US milk supplier, is also still in the running to buy Stonyfield, according to a source quoted by the New York Post, although a spokesperson for the company told just-food: "It's our policy not to comment on rumours or market speculation."
Last summer, Danone announced it had struck a deal to buy Alpro and Silk owner WhiteWave for $12.5bn. In December, Danone sold a unit in Belgium to secure EU approval for its acquisition of WhiteWave. Danone completed the deal last month.