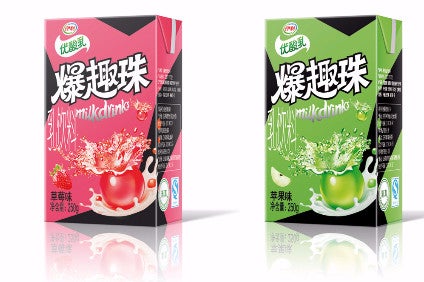 Chinese dairy giant Yili Industrial Group has launched a yogurt drink in its domestic market containing juice balls that burst in the mouth.
The product, created in partnership with packaging firm SIG Combibloc , is targeted at a teen market in China that SIG says is looking for new experiences. "We believe the combination of yogurt and fruit in the form of small balls fits ideally with the joy of experimentation and curiosity typical of teenagers," Eric Ding, marketing head for SIG in its Asia Pacific North region, said.
The Baoquzhu-branded yogurt drinks are available in apple and strawberry flavours, and are filled with alginate balls containing juice. SIG said the balls burst when gently chewed.
The launch will be supported by a marketing campaign involving TV, magazines and online social media channels. Yili has hired Taiwanese pop star and actor Jay Chou to lead the campaign.
The Baoquzhu yogurt is not the first time Yili has teamed up with SIG to create a product. In 2013, Yili introduced a UHT milk product containing rice grains, using SIG technology.