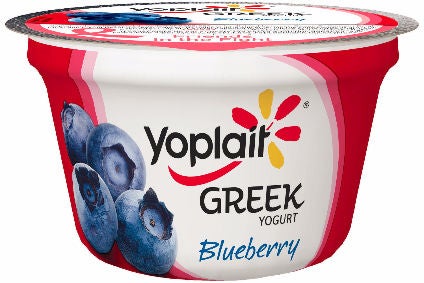 Yoghurt is the latest niggle on General Mills' list of woes, the Yoplait owner revealed on a conference call on its third-quarter and nine-month results yesterday (23 March).
For the nine months to 28 February, General Mills did report higher earnings on the back of lower restructuring costs. Group sales, however, fell on the back of fluctuations in exchange rates and General Mills' recent sale of its Green Giant business to B&G Foods.
Furthermore, on General Mills' call with equity analysts, the company was blunt about the headwinds it faced in the US yoghurt category. Jeff Harmening, the COO of General Mills' US retail business, said the Yoplait owner had seen "double-digit baseline declines on our yogurt business" during the third quarter. Competitive activity was one of the biggest issues with a number of new brands hitting the market, Harmening explained.
"On yoghurt, we continue to see high levels of competitive investment as dairy prices remain near 20-year lows. Merchandise volume is up double digits for a key competition in the category, with significant increases in merchandising frequency as well as lower price points in certain channels. In addition, we're seeing competitive advertising spending more than twice the level of a year ago," Harmening said.
The weakness in General Mills' yoghurt performance is a continuation of a pattern seen in the company's second quarter, when the company said it planned to "increase competitiveness" in a bid to drive sales. Harmening said the strategy was still on the agenda but admitted the "increased competitive merchandising levels [mean] it had taken us longer than expected to secure additional in-store activity".
General Mills owner is banking on aggressive marketing and innovation in the category to secure future growth. Earlier this year, General Mills announced it was taking organic brand Annie's into the organic yoghurt category.
"We will invest in higher level of advertising in the fourth quarter. We believe that yoghurt is an attractive growth category, now and for the long-term. We are focusing on initiatives that help drive category growth by generating news, expanding usage occasions and bringing new consumers to the shelf. Over time, innovation and great marketing will be the key factors to winning, in this category," Harmening said.
"We think Annie's all family appeal and strong organic brand equity will bring new consumers to the shelf. And we will have more news to bring to organic yoghurt segment this summer. We are expanding our usage occasions with our One Up Your Cup campaign, which encourages consumers to incorporate yoghurt in to their snacking routine," he added.
General Mills is committed to avoiding is being aggressive on price. Harmening said the firm would "remain disciplined and not chase unprofitable volume".
"We will remain committed to that principle," he insisted.
Alexia Howard, senior analyst at Bernstein Research, wondered whether General Mills' plan to reinvest in merchandising in the category would "bear adequate returns". Howard also had similar concerns about whether General Mills' investment in innovation in cereal would pay.
Reflecting on the prospects for these two key parts of General Mills' US business, Howard explored the options the company might be considering as a contingency.
"In the case that reinvestment does not re-accelerate sales growth in the fourth quarter and beyond, General Mills will likely need to keep pedalling even harder in terms of innovation and operational efficiencies to reach its long-term targets. In this environment, it may not be surprising if the company takes more drastic measures like the potential sale of some of its more troubled brands (meals, baking mixes) – though we've seen that the dilution from the sale of some of these sales could be a roadblock. Or it could pursue larger deals in the natural/organic space – WhiteWave Foods or Hain Celestial? – in its search for growth," Howard said.