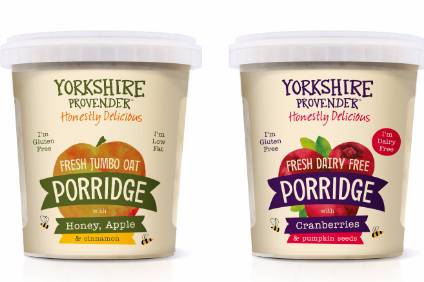 UK soup maker Yorkshire Provender has entered the country's breakfast market with the launch of an on-the-go line of gluten-free fresh porridge.
The 300g pots of Fresh Jumbo Oat Porridge in three variants – A Touch Of Honey, Apple and Cinnamon and Coconut Milk, Cranberries and Pumpkin Seeds – each have a thermal insulated sleeve "for fast, safe microwave heating, meaning a delicious healthy breakfast straight from the pot in only three minutes", the company said.
Yorkshire Provender founder Belinda Williams told just-food: "Our new porridge range offers healthier breakfast options than other ready-made porridge and breakfast cereals available. We use a very small amount of natural sweetener – honey – as opposed to refined sugar and we only use gluten free jumbo oats."
Williams said the company also uses "fresh Yorkshire milk as opposed to powdered milk used by ambient on-the-go porridge alternatives".
Yorkshire Provender does supply porridge to the foodservice market in the UK.
She added: "We are looking for porridge to contribute around GBP1m (US$1.3m) turnover within the next couple of years. Our turnover target for our business for our next financial year is GBP10.3m." The company is set to generate GBP8.3m for its current financial year, which runs to the end of March.
The new line is available from Waitrose, Sainsbury, Ocado and Nisa at GBP1.79 per pot (US$2.24).
Yorkshire Provender said last year it had increased its production capacity as the UK chilled soup business hoped to build on a year when its retail sales grew 30%.