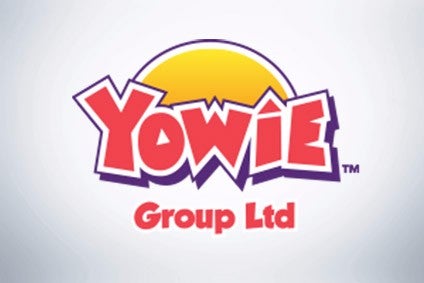 Australia-listed confectioner Yowie Group has cut its annual revenue forecast for the second time in six weeks, attributing the downgrade to the emergence of a new competitor in the US.
After lowering its revenue guidance on 3 January from 55% to 17%, the Perth-based company said in a stock exchange announcement today (14 February) that it now expects a flat performance for the year ending in June. It reports third-quarter results next week.
Yowie's January outlook is now "unlikely to be achieved", the company said, adding that US sales in the current quarter are "materially" behind those of a year earlier.
"The board believes this is principally the result of launch activity by a competitor into the US market in January," Yowie said in the filing. "We have observed significant and aggressive investing by this competitor in off-shelf promotional displays which we believe is the key driver.
"Although the board believes this level of the competitor's sales is unlikely to be maintained, it will continue to impact our sales achievement."
It has not been a good start for new chief executive Mark Schuessler, who was formerly Yowie's head of operations at its North America division. He took over the CEO role from Bert Alfonso, who departed in January.
That announcement coincided with the January revenue downgrade, which Yowie said was due to a lower-than-expected contribution from its business in Canada and the performance of its Discovery World product in the US .
At the same time, it reported global sales increased 23% in the second quarter ended in December but noted a flat performance in both the US and Canada. Revenue came in at US$5.4m to give a first-half result of $10m, which was up 7.5% from a year earlier.
In the year through June 2017, sales grew 51% to $19.9m with the US contributing $17.6m, a 36% increase from the previous year. The US division posted annual revenue of $17.6m, up 36% from the previous year.
For Yowie's 2018 outlook, it forecast sales would rise by around 55%-70%, for both the US and non-US, reflecting the "pipeline fill in Australia" in the third and fourth quarters of 2017 and entry into Canada.