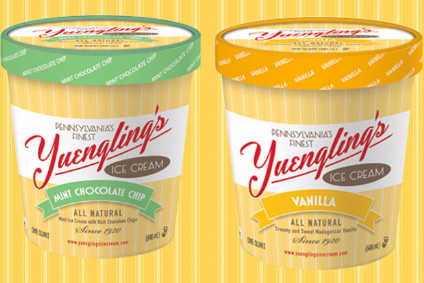 US ice cream manufacturer Yuengling's Ice Cream Corp. plans to raise US$5m in a private placement to fund moves to grow the business.
Yuengling's said the cash would be invested in expanding inventory, increasing promotions and advertising, as well as new product and business development. The company also intends to invest in upgrading its two existing production facilities.
According to the investment prospectus, over the past two years, Yuengling's has been able to "successfully gain market share" in its "core market" as well as "building infrastructure required to expand nationally". In 2014, the company generated revenue of $2.6m and accounted for a 0.33% share of what it defines as its "core market" – parts of Pennsylvania, Virginia and New Jersey. In 2015, the company had increased its revenue to $4.8m and grown its share of the core market to 0.6%.
Yuengling's has secured listings in a number of regional supermarkets, including Stop & Shop, Giant, Harris Teeter, Wegmans, Lowes, SuperValu and Wal-Mart.
By 2018, Yuengling's wants to increase total sales to $14m. The group intends to do this by increasing distribution from the 1,200 stores stocking its products in 2014 to 6,000 stores by 2018. The company aims to establish distribution in convenience channels, incrementally grow its shelf space in existing retailers and establish relationships with new retail customers with a focus on Southern and Midwestern states.
"Yuengling's is a super premium product that compares favourably to national brands, provides good "value" to customers, and regularly out-performs competitors in samplings," the prospectus claims.
The company identifies its brand strengths as its focus on the "super premium" category, which the company valued at $800m in the US. Its ice cream is made from "all-natural" ingredients, which are kosher, free from added growth hormones and steroids and "moving towards" GMO-free certification.
The placement is being facilitated by Banq, the online division of TruPount Global Equities.
Pennsylvania-based Yuengling's was launched in 1920 by the owners of Yuengling's Brewery in response to prohibition. The business ceased operations in 1984 but was re-launched in 2014.