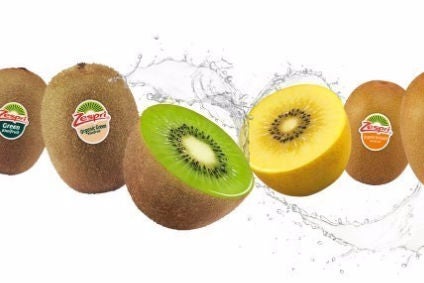 New Zealand kiwifruit supplier Zespri has appointed Dan Mathieson as CEO to replace Lain Jager.
Mathieson has been with the company for 15 years and was most recently president of global sales and marketing, according to a statement today (25 September). He will be based in Singapore but will also spend substantial time at the firm's headquarters in Mount Maunganui, New Zealand.
Chairman Peter McBride said of Mathieson's appointment: "I am confident he will lead Zespri well and deliver growth and increasing value for our industry and shareholders, building on the strong legacy that Lain Jager leaves behind. In his time leading our sales and marketing operations and offshore markets, Dan has successfully delivered a demand-led strategy, growing mature markets and diversifying into new markets."
Mathieson said Zespri is focused on increasing global sales to NZD4.5bn (US$3.2bn) by 2025.The company sold NZD2.26bn of kiwifruit in 2016/2017. It has supply partnerships with growers in the Northern Hemisphere, with the majority of its supply coming from Italy and it also has orchards in France, Japan and Korea.
Zespri announced a year ago it planned to look for a new chief executive to replace Jager, who took up the post in December 2008. The company did not disclose Jager's plans once he leaves the business and could not be reached for immediate comment.
In April, Zespri expanded its presence in China with the launch of its own e-commerce store in collaboration with Chinese online retailer JD.com. Mathieson said then that China and Japan are the company's two largest markets in the world. And in March Zespri also opened an office in Dubai.
"Delivering Zespri's strategy means an increasing focus on our international markets, as we continue to increase demand ahead of supply and expand our 12-month supply business," Mathieson said in today's statement.