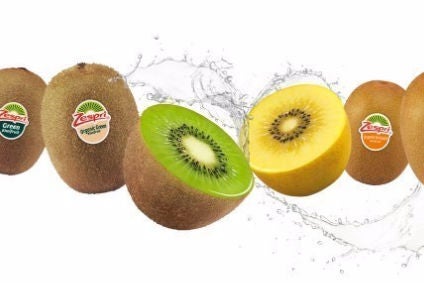 New Zealand-based produce supplier Zespri is to boost the production area in Europe for its SunGold kiwifruit to meet what it said is increasing demand.
Zespri plans to allocate an extra 1,800 hectares of production over the next three years amid "growing year-round demand" for SunGold. Some 1,200 hectares will be in Italy, where Zespri will work with four local suppliers – Apofruit, Alegra-Intesa, Salvi Unacoa and Spreafico. The other 600 hectares are still to be allocated, Zespri said.
At present, the production of Zespri SunGold in Italy is 17,500 tonnes a year from 800 hectares. There are another 850 licenced hectares in the ground that will come into full production in the next few years. The combined volume of the existing 1,650 hectares and the new 1,200 hectares is set to see Zespri's Italian SunGold volume quadruple to around 70,000 tonnes in the next five years. The volume from the additional 600 hectares would come on top.
Simon Limmer, Zespri's COO, said: "Twelve-month supply is a key part of Zespri's strategy and this investment aligns our offshore production with the strong increases in New Zealand SunGold volumes, set to double to around 320,000 tonnes over the next five years."