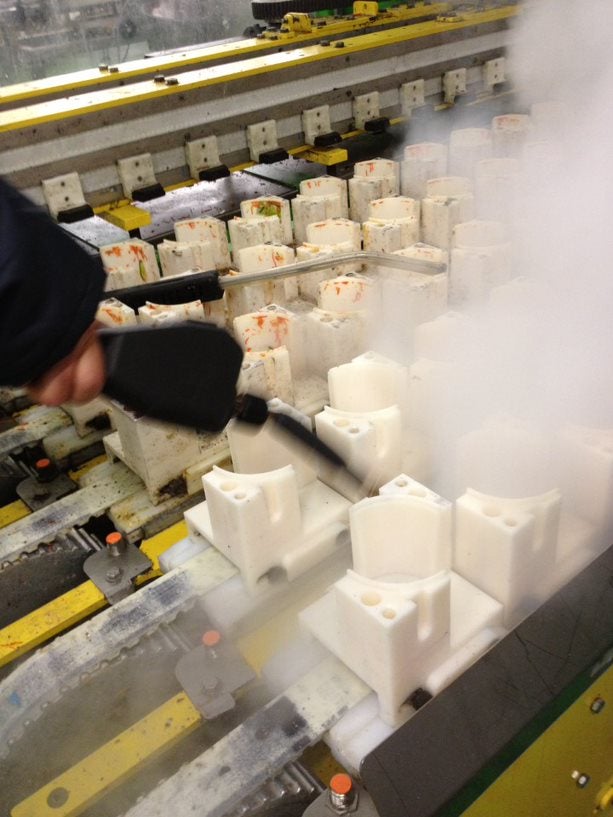 Steam generator 9kW, 18kW or 36kW – No detergent
Digital control panel (mobile)
Tornado rotary steam nozzle = no limit in belt size
Electrical enclosure (mobile)
A steam generator feeds a nozzle which, thanks to the steam, rotates very quickly above the belt. The combination of high temperature, pressure and rotation allow the belt to be cleaned and sanitised without any detergent.
The steam nozzle moves from left to right according to the programming and covers the entire width of the belt.
The number of movements and the duration for each position is programmable, according to the quantity and type of contamination and the width of the belt.
A digital touchscreen panel allows the operator to select all the cleaning parameters easily, according to its cleaning requirements and belt dimensions.
The width of the belt
The number of lateral displacements
The duration of each position
It takes only 2 minutes to create a new cycle.
Very easy, tool-free height regulation / move from one belt to another in less than 2 minutes.
Wastewater is collected in a container.
Intuitive, user-friendly touchscreen control panel.