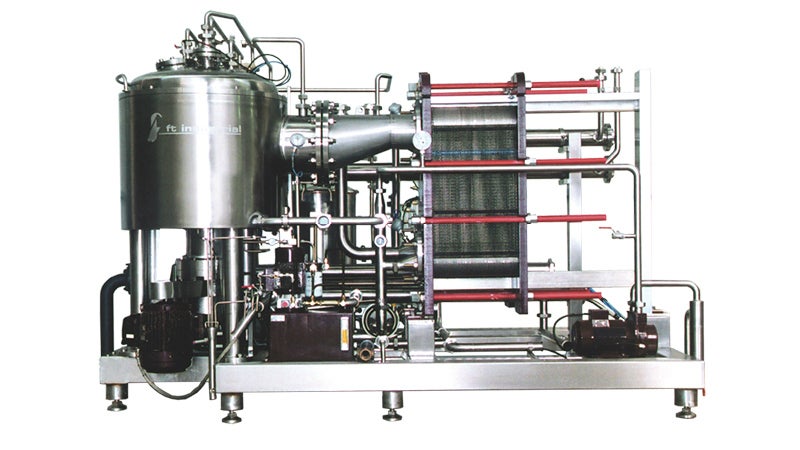 Flavourtech's Centritherm® is a centrifugal, thin-film evaporator suitable for concentrating heat-sensitive, valuable, or viscous products.
Taking only one second to pass over the heating surface at low temperatures, the Centritherm evaporator offers energy savings in downstream processes, while also providing better encapsulation of valuable flavour components if evaporation is a precursor to a drying stage.
With its short residence and using evaporation temperatures as low as 35°C, the Centritherm evaporator has minimal to no effect on colour and active constituents. This ensures active ingredients are protected leading to higher yields of valuable properties.
The Centritherm evaporator is compact and can be installed quickly with minimal infrastructure requirements. A simple operator interface makes it easy to use and a built-in cleaning system means changeover from one product to the next is quick and easy.
Furthermore, its centrifugal design means it can reach higher concentrations than other evaporators and it is often used as a finisher to reduce process and energy requirements downstream.
Applications of the Centritherm evaporator include:
High-quality tea and coffee concentrates
High-quality fruit and vegetable concentrates
Solvent removal from botanicals and oleoresins
Concentration of vitamins, enzymes, and active ingredients
Concentration of dairy proteins
Benefits
Using centrifugal force, the product is in contact with the heating surface for only one second, a substantially shorter time than in other evaporation systems, which may take several minutes. This short residence time coupled with low operating temperatures results in a much less thermal impact on the products being processed.
As a result of the extremely short residence time and thin product film on the heating surface, the volume of product present in the Centritherm evaporator at any given instant is very small. This low hold-up volume makes the Centritherm evaporator ideal for processing small batches of high-value products, or for processing multiple products.
The largest model Centritherm CT12 has an evaporative capacity of 4,800kg/h and the hold-up volume is only 7l. This is considerably less than other evaporators, which may hold more than 100l of hold-up volume.
The Centritherm evaporator can achieve high-concentrations in a single pass. For example it can concentrate Milk Protein Concentrate 85 up to 50oBrix and Coffee extract up to above 70% soluble solids. For added flexibility, it is possible to fit an integrated pre-evaporation stage onto the larger CT-9 and CT-12 models to increase concentration and reduce energy consumption while still being delicate.
To protect valuable investments, Flavourtech offers its total care plan (TCP), which provides customers peace of mind knowing that the people that designed and built their technology are also looking after it. Additional operator training, parts, labour, maintenance, and remote monitoring, as well as extended warranties are all offered under the various packages available to ensure maximum uptime in your processing line.