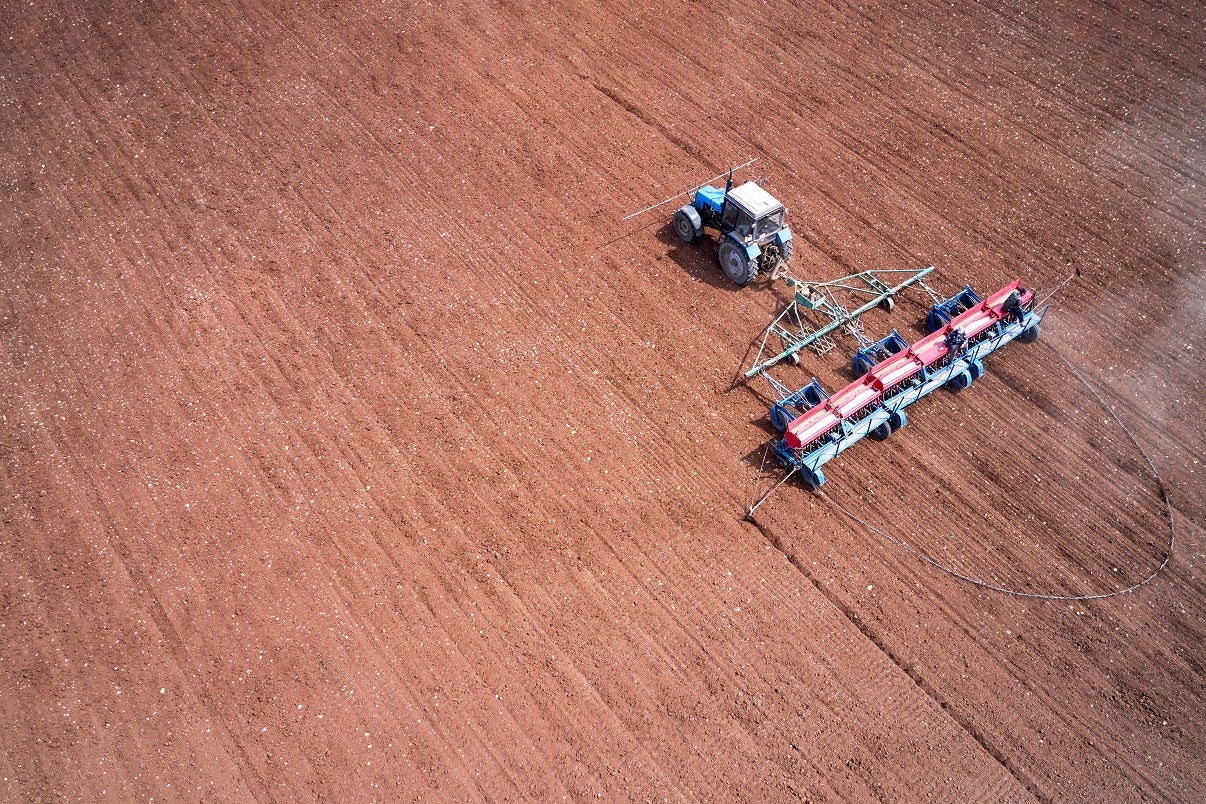 A raft of global institutions has developed a multi-billion-dollar "action plan" to address food security, particularly in developing countries.
Speaking in the German city of Bonn yesterday (18 May) to kick off three days of G7 talks, US Treasury Secretary Janet Yellen said at a press event: "Russia's war against Ukraine has exacerbated the issue of food security for people around the world, particularly in emerging and developing countries.
"There is a very real risk that soaring global market prices of food and fertiliser will result in more people going hungry, further exacerbate price pressures, and harm government fiscal and external positions."
Commodity prices were already on an upward path before Russia invaded Ukraine in February as most of the world started to emerge from Covid-19, with producers struggling to meet the renewed demand. The mismatch inflated global food prices and pushed up agricultural inputs such as fertiliser, before the conflict all but cut off supplies of wheat, sunflower oil and barley from Ukraine and Russia. Higher energy costs added to the food-security debate.
The so-called Action Plan to Address Food Insecurity has been developed by international financial institutions: the Asian Development Bank (ADB); the African Development Bank (AfDB); the European Bank for Reconstruction and Development (EBRD); the International Fund for Agricultural Development (IFAD); the Inter-American Development Bank (IDB); the International Monetary Fund (IMF) and the World Bank.
Yellen added: "These IFIs have started surging billions in resources; for example, the World Bank is mobilising over $1.9 billion. This has been important progress but we need to double-down on our efforts to ensure people around the world can feed their families."
The ADB is working with the World Food Programme (WFP) and the United Nations' Food and Agriculture Organization (FAO) to "address severe food insecurity through emergency food assistance, food-for-work and cash-for-work programmes". It has pledged $200m to Afghanistan for essential food.
As part of the African Emergency Food Production Facility, a proposed $1.5bn fund, the AfDB will "deliver climate-smart, certified seed, fertiliser and extension services to 20 million farmers, as well as provide financing support for large-scale procurement of fertiliser to African countries through wholesalers and credit guarantees".
For Ukraine and nearby countries, the EBRD has pledged EUR2bn (US$2.1bn) over two years, including EUR500m to support trade finance for agricultural and food products.
India last week banned the export of wheat to protect local supplies, and while the country is relatively small compared to shipments from Russia and Ukraine, the restriction reduces alternative sources for importers both from a food and livestock perspective.
Russia, which is the subject of international economic sanctions, is the world's largest exporter of wheat ahead of the US and Canada, while Ukraine is fourth in global rankings. Ukraine is also the top supplier of sunflower oil, while Russia is the number one exporter of Barley.
Commenting on India's ban, Sara Girardello, head of starch and alternative sweetener research at UK consulting firm LMC International, Just Food's sister company, said. "The situation is critical for countries in north Africa and the Middle East [where] bread is a staple food and most of these countries rely on imports of wheat (and flour in some cases) to meet their needs. If bread becomes unaffordable, many people would go hungry and social unrest could follow."
Meanwhile, under the global Action Plan, the IFAD plans to invest $3.5bn over the next three years in 78 countries "to build the resilience of the world's poorest and most vulnerable rural people to current global challenges, including the Ukraine crisis and other food-system shocks". Its Crisis Response Initiative "aims to address short-term food security needs in 22 countries", mostly in Africa and Asia.
The World Bank is leading the financial pledges, with a global initiative to provide $30bn over the next 15 months for projects linked with "food and nutrition security".
"It will assist clients and partners to mitigate against the short-term negative impacts on food-and-nutrition security of the current global food and fertiliser price crises, while remaining focused on medium- and longer-term actions that create pathways out of the crisis and greater resilience to price spikes going forward," according to the US Treasury statement.
In conjunction with the other institutions, the IMF "will support countries affected by food insecurity with the full range of its instruments, focusing on its macroeconomic expertise", including advice, development assistance and financial support.
Speaking in the wider economic context as the world battles spiralling inflation and the threat of slowing global growth and even widespread recession, Yellen told the press conference: "Certainly the economic outlook globally is challenging and uncertain, and higher food and energy prices are having stagflationary effects.
"We understood when Russia invaded Ukraine, and we decided to respond, that there would be spillover effects, and that we are prepared to pay, but we're doing everything we can to make sure that the sanctions have the minimum negative impact on ourselves, on Europe, on other countries, emerging markets, developing countries, and the maximum impact on Russia."