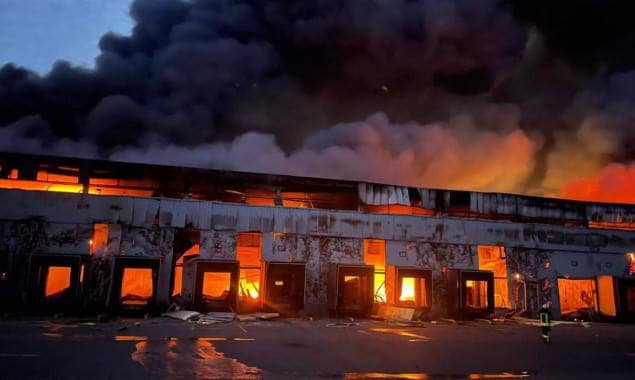 A warehouse run by Ukrainian poultry firm MHP has been damaged by Russian shelling, destroying millions of dollars worth of chicken products.
London-listed MHP, which is responsible for about half of chicken production in Ukraine, said a fire broke out at the rented warehouse in the village of Kvitneve in the Kyiv region on 12 March.
The company said US$8.5m of frozen chicken products – mainly intended for the retail channel – were destroyed. No workers were injured.
"It was the largest warehouse in Ukraine used for the storage of frozen products and predominantly used by large retail chains in Ukraine," MHP added.
Meanwhile, the group said about 8,500 tons of poultry is at risk because of limited access to other warehouses in southern Ukraine and the Kyiv region due to damaged roads and railways. It put the "potential" financial impact at more than $20m.
Just over a week ago, MHP announced it would be unable to issue its annual results scheduled for 24 March due to the disruptions caused by the conflict. In the first nine months of 2021, the company saw its revenue rise 16% to $1.65bn. Export revenues stood at $843m, up 11% on the corresponding period a year earlier.
MHP's nine-month operating profit more than doubled to $416m. The company's net profit was $377m, compared to a net loss of $109m in the first nine months of 2020, on the back of non-cash foreign-exchange gains.
On March 4, MHP said all its factories, employing 26,000 workers, remained operational. However, exports were halted due to logistical constraints.
In a new stock-exchange filing yesterday (14 March), MHP provided an update on the status of events: "MHP has a key responsibility in the food security of the country and it continues its operations despite substantial difficulties in supply chain and logistics.
"MHP fully understands how important poultry production is for Ukraine and its population at such difficult times. All MHP employees are fully committed in every effort to ensure that Ukrainians have access to food now and at any time in the future."
The company, however, also sounded a warning about food security in Ukraine.
"This is not the first food warehouse in the Kyiv and surrounding Ukrainian regions [to] be destroyed by the RF [Russian Federation] occupiers in the last few days. The occupying forces are significantly jeopardising the food security of Ukraine, where a vulnerable population urgently requires food and is further challenged either by logistical problems (many roads and bridges no longer exist) or finds itself on occupied territories," it said.
For more on Just Food's coverage on how the conflict in Ukraine is affecting the food industry, please visit our dedicated microsite.