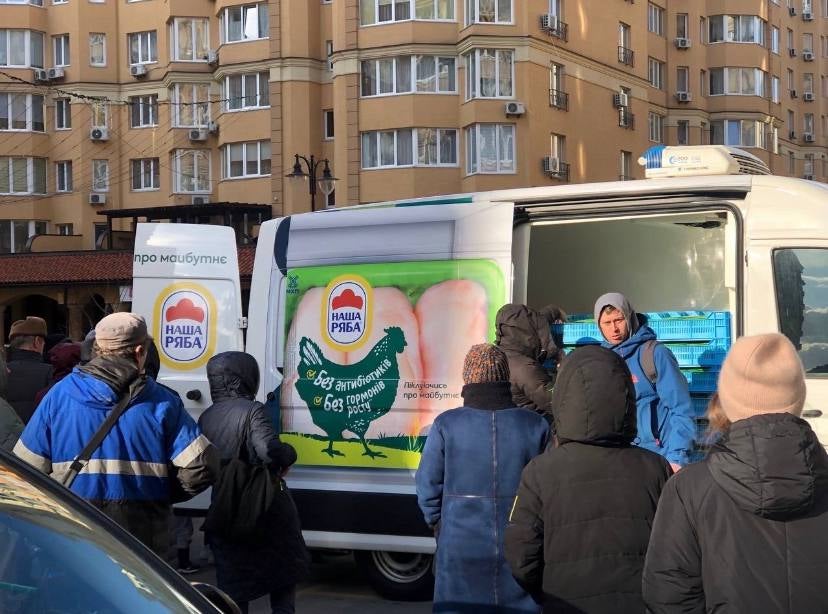 MHP, the Ukraine-based poultry processor serving around half of domestic chicken production, said its plants remain operational with supply continuing to retail, the army and hospitals.
However, chicken exports from Ukraine have stopped due to logistical constraints linked to the ongoing invasion by Russian forces, the London-listed business said in a stock exchange update today (4 March) after outlining the difficulties it was facing on Monday.
Its production facilities "have not suffered any physical damage to date", while the company is not aware of any casualties among its 26,000 workers, MHP said, as fighting and bombings continue into a ninth day.
MHP added: "While MHP continues commercial sales in Ukraine, export sales have ceased because of ports being closed. At the same time, export delivery with trucks is practically impossible.
"Currently, delivery across Ukraine is highly problematic due to lack of drivers and fuel, and practically impossible to the regions which are under heavy fire (red zones)."
With exports shut down for now, MHP said it is "running at a lower utilisation to fully satisfy domestic consumption in poultry meat", while any excess chicken is being frozen. However, production at the company's Ukrainian sunflower and soybean plants has been suspended.
Meanwhile, efforts are being taken to ensure full operation of MHP's factories can be resumed "once the situation stabilises", although the business reiterated the financial impact from the conflict is expected to result in a "severe reduction in revenue and associated losses".
As a consequence of the disruption, MHP said it will be unable to issue its annual results due on 24 March or provide an update as yet on when they will be published.
In the first nine months of 2021, MHP saw its revenue rise 16% to US$1.65bn. Export revenues stood at $843m, up 11% on the corresponding period a year earlier.
MHP's nine-month operating profit more than doubled to $416m. The company's net profit was $377m, compared to a net loss of $109m in the first nine months of 2020, on the back of non-cash foreign-exchange gains.
MHP continued: "On the domestic market, MHP continues to supply the local retail chains and institutions (army, hospitals, etc.), with some meat being distributed in most-affected areas on a free-of-charge basis.
"Although we are experiencing extreme disruptions in the supply chain, the company is continuing to pay key Ukrainian suppliers for critical goods and services (e.g. utilities) to ensure viability of its supply chain. The company is already experiencing disruption in the supply of feed additives (minerals, vitamins etc), which is mainly driven by the logistic problems," it explained.
The business is assisting with the evacuation of people from the red zones and providing transportation, housing and legal support to families seeking evacuation outside Ukraine.
"We are proud of, and extremely grateful, to our people who continue to work under duress every day to ensure food supply to Ukraine. MHP has continued to pay all its employees in full and will continue to support them by all practical means," the company said, adding its Perutnina Ptuj factory in Slovenia remains fully operational.
For more on Just Food's coverage on how the conflict in Ukraine is affecting the food industry, please visit our dedicated microsite.