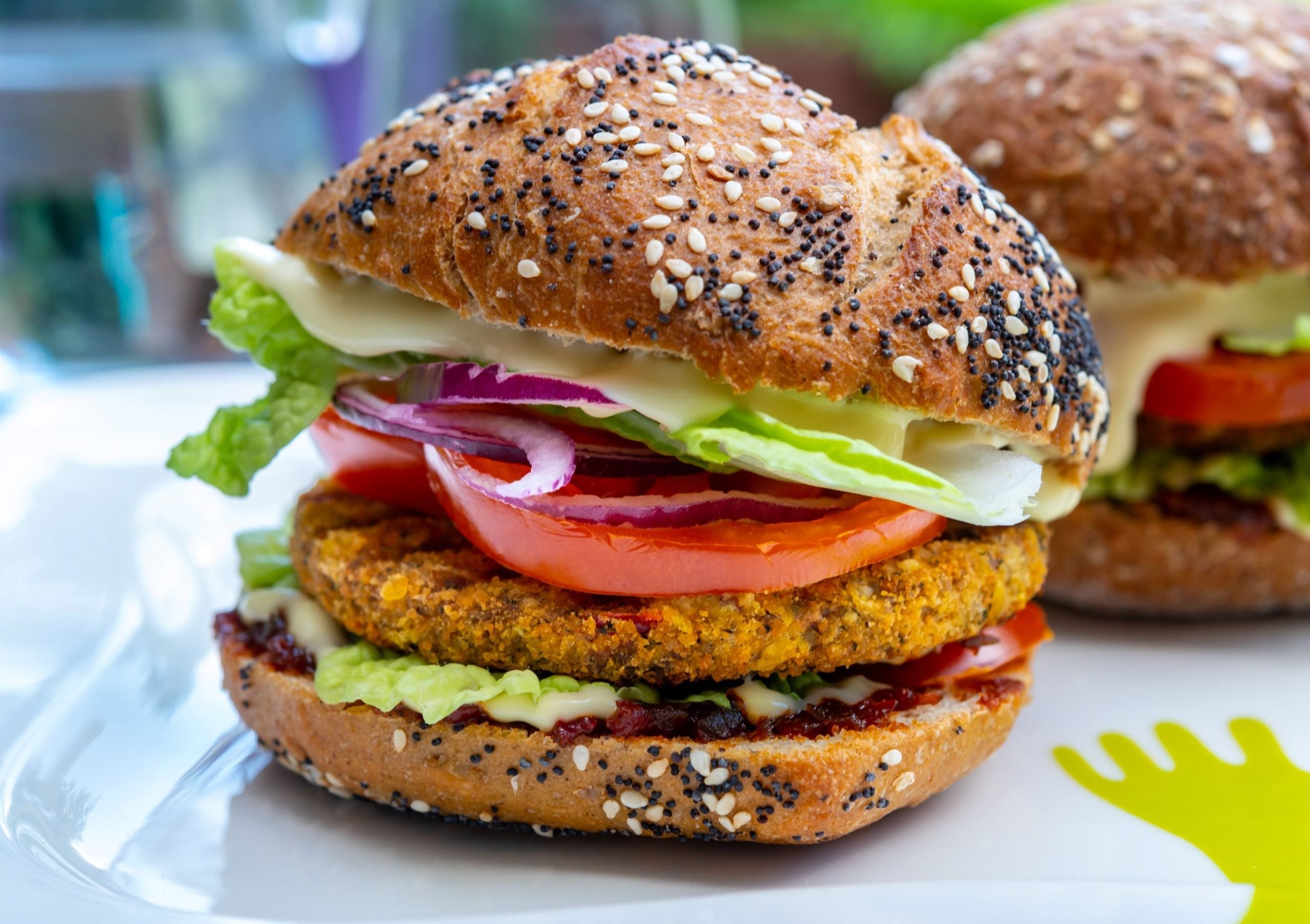 This year has seen some evidence of the hype wearing off the alternative protein sector. In March, Swiss food giant Nestle said it would stop selling its Garden Gourmet meat-free and Wunda alt-dairy brands from retailers in the UK and Ireland less than two years after these brands were put on the shelves. In the same month, Quorn and Cauldron parent firm Monde Nissin said it was taking a hefty impairment charge on its meat-free business resulting in a net loss of 13 billion Philippine pesos (US $235 million) in its 2022 fiscal year, reversing a $3.12 billion net profit from a year earlier. The CEO of the Philippines-based food and drinks company Henry Seosanto pointed to rising interest rates and risk premiums as factors behind the impairment charge but was also clear on the effect of softening demand in meat alternatives, or the "rationalisation of the trend", as he put it.
The category was already cooling in the US last year.
California-based meat-free pioneer Beyond Meat, the first plant-based food manufacturer to list on the stock market in 2019 – in what was a bumper IPO – posted almost double the annual loss in its fiscal year 2022 than it reported the year before. Founder and CEO Ethan Brown described Q4 2022 as "challenging" for the business and for the whole meat substitutes category in the face of biting inflation and a global economic slowdown. The share price of Beyond Meat has lost about 60% of its value in 12 months. Tattooed Chef, another US plant-based leader, has also been experiencing challenges.
Still the future of food?
The number and value of deals in the plant-based category were down in 2022, GlobalData analysis shows. In 2021, there were 20 M&A deals, compared with less than five in 2020 and 2019, but then in 2022 the number drops to about six. And while 2020 was a record-breaking year for venture capital finance in plant-based protein startups, with $800 million pouring into everything from almond milk "cheese" to soy "bacon", that number halved in 2022.
But in a 2023 report analysing the state of the plant-based sector, GlobalData five-year projections show that there is still a very bright future for dairy and meat substitutes.
Spurred on by a permanent shift to ethical, health-conscious, and environmentally-sound food choices, GlobalData's Market Analyser projects that between 2022 and 2027, dairy alternatives in grocery will increase at a compound annual growth rate (CAGR) of 7.3% to top $67 billion in 2027. Meat substitutes in grocery will have a 12.2% CAGR over the same timeframe, to reach $13.6 billion in 2027. This represents a faster rate of growth than the four years prior. Between 2018 and 2022, according to GlobalData analysis, CAGR for dairy substitutes was 5.1% and 11.7% for meat substitutes.
The projections are published in a March 2023 GlobalData market intelligence report, Plant-Based Diets, which suggests that the continued rise in demand shows that consumers are willing to pay for premium plant-based products even with increased pressure on household budgets.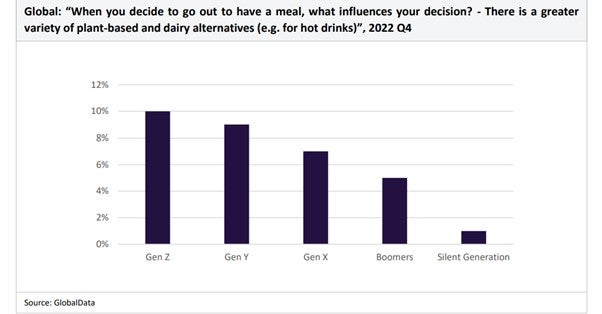 Source: GlobalData's Quarterly Consumer Survey Q4 2022 (survey respondents = 21,000)
One investment analyst, Clive Black, a director at UK investment firm Shore Capital, suggested to B2B news site Just Food that the current pain in some parts of the sector is the consequence of the category being pumped up into a "food bubble" by excitable venture capital (VC) and Wall Street investors during the pandemic when consumers started to focus more on personal health as well as plate-to-planet impact.
As veganism and flexitarian eating gained momentum, innovation in the category ramped up with multinational food corporations placing big bets on a flurry of new launches and many restaurants and takeaway chains, including Burger King, McDonalds and KFC, adding meat-free options to menus in key markets. This has led to the sector becoming too crowded too quickly and market watchers predict more product exits, startup flops, partnerships and deals over the next few years as the sector evolves and matures.
The value of certification
For now, it's still very early days for this market and brands should know that not all plant-based food is created – or perceived – equally. Highly processed and fried alternatives are unlikely to appeal to those making the switch to improve their physical health and wellbeing – a top purchase driver in 2023, according to GlobalData's TrendSights framework. Chemical-ridden 'Frankenfood' is also unlikely to take up much space in plant-based shopping carts – physical or virtual, and it remains to be seen what consumers make of foods using precision fermentation, shear cell technology, 3D printing and AI plant formulations when they eventually reach the shelves.
"Currently, global consumers are most likely to favour meat alternatives that are derived from mushrooms, lentils, beans and chickpeas and soybean products, such as tofu, tempeh and edamame," says Global Data analyst Katrina Diamonon. "This indicates the desire for plant-based alternatives to be formulated with ingredients that are familiar to the consumer. Indeed, the desire to go plant based is largely driven by the perceived nutritional benefits of such options, making it crucial for plant-based meat replacements to be renowned for their superior nutritional credentials.
"The cost-of-living crisis has not stopped consumers from prioritising ingredients that provide benefits to physical health and mental wellness. To capture this growing market, it will be crucial for brands to offer clear and transparent labelling highlighting and build trust with a largely risk-averse shopper."
Maria Seaman, product manager at QIMA WQS, adds: "Consumers who choose plant-based meat alternatives want to know that they are indeed meatless, that the product has not been cross-contaminated with animal products during the manufacturing process, and that they do not contain potential – and harmful – allergens."
Getting certified with BRCGS Plant-Based is one way of communicating to your customers that your plant-based food products are of the highest quality and ensures transparency on all types of food substances addressed through the BRCGS Plant-Based Global Standard. QIMA WQS won the award for Certification Body of the Year by BRCGS (Brand Reputation Compliance Global Standards) at the Food Safety Americas annual conference held in May 2021.
"Our experienced team members can support your business get certified under the rigorous BRCGS Plant-Based standard so that you can prove to your customers your commitment to plant-based production and sourcing," Seaman adds.
Who is QIMA WQS?
QIMA WQS offers food safety and audit solutions, from farm to fork through GFSI-recognised certifications (PrimusGFS, GLOBALG.A.P., SQF, and BRCGS) food certification schemes, sustainable protocols, inspections, and training.
Download the guide below to get more information about QIMA WQS's BRCGS Plant-Based services and how they can support your business build a loyal audience for your plant-based protein brands