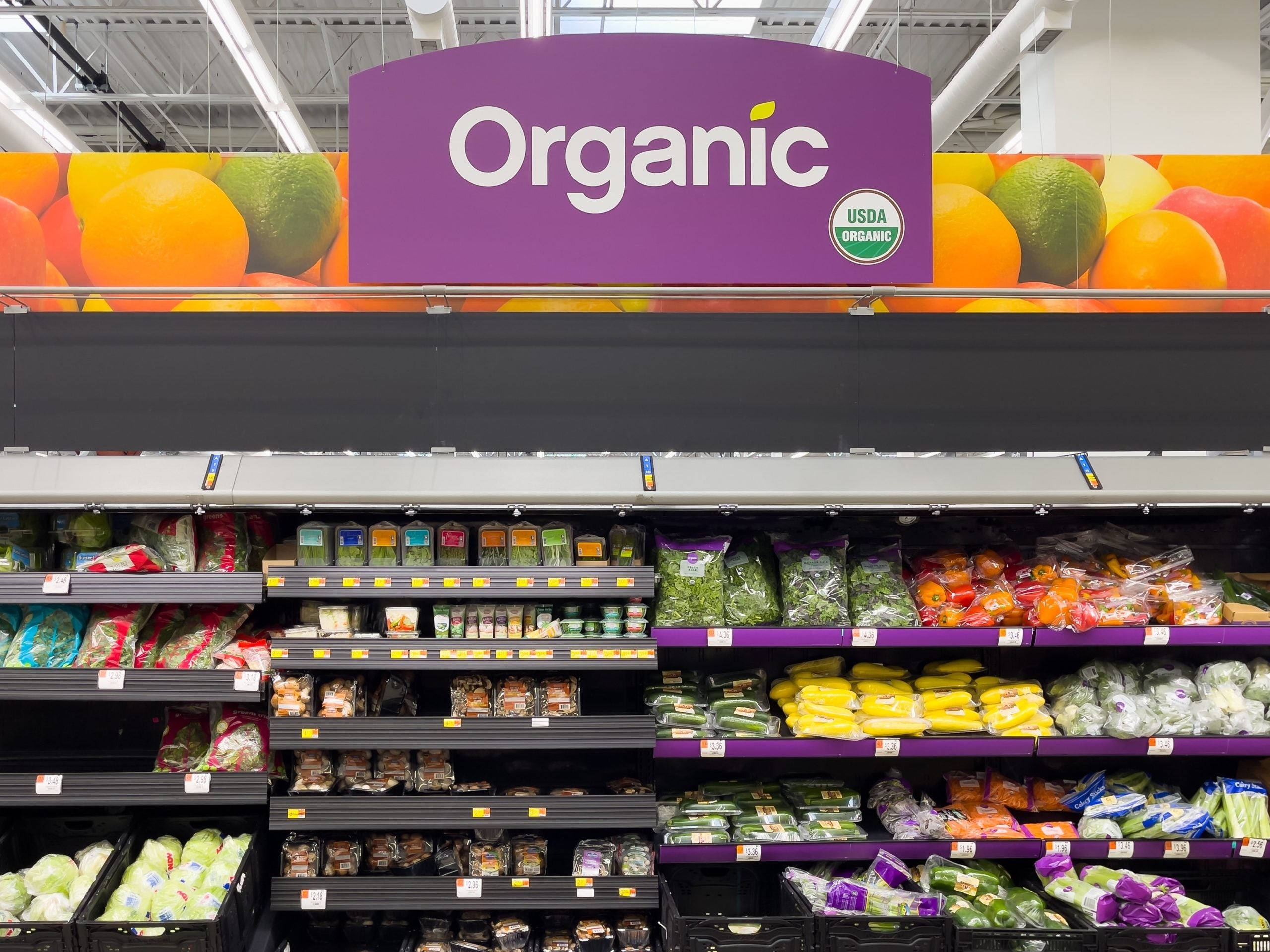 Last year, organic food sales in the US broke through $60 billion for the first time. The Organic Trade Association's (OTA) 2023 Organic Industry Survey reported that the sector grew 4% from 2021, double the growth between 2020 and 2021.
Let's take a minute to digest those numbers.
Organic food, which is always sold at a premium due to the costs of compliance with rigorous legal standards, was still in high demand even as the steepest inflation numbers for decades cut into household finances and triggered the end of low-interest rates. All sorts of consumer sectors have suffered, particularly discretionary items.
The OTA report said organic produce sales totalled $22 billion and accounted for 15% of all fruit and vegetable sales in the US last year. Organic beverages were the second strongest category after fresh produce as an increasing number of young people look to swap out alcohol for natural alternatives. Organic coffee sales rose 7% year-on-year reaching close to $2.3 billion, while demand for organic eggs and dairy also remained strong.
"Organic has proven it can withstand short-term economic storms," said OTA's CEO Tom Chapman on the release of the report in May.
"Despite the fluctuation of any given moment, Americans are still investing in their personal health, and, with increasing interest, in the environment; organic is the answer."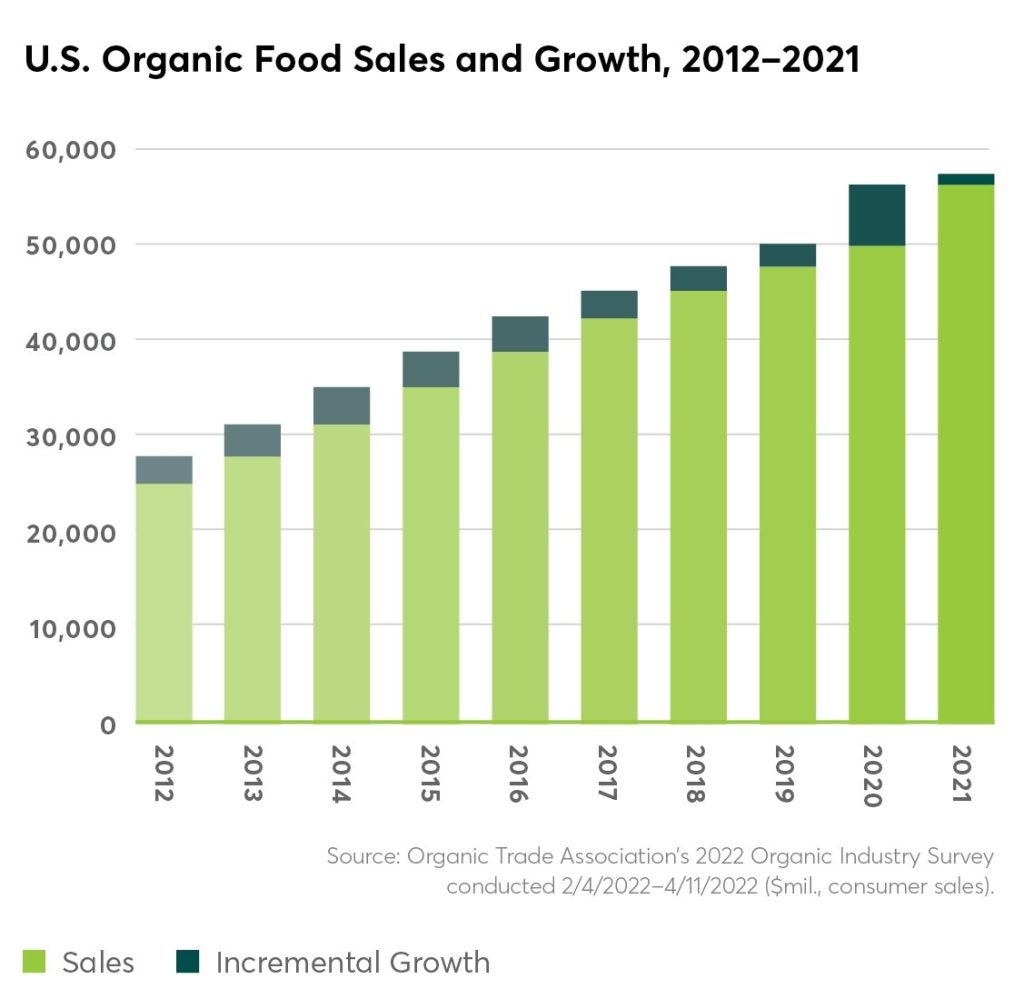 Between 2012 and 2022, the US market for organic agricultural products, eggs, dairy, chicken and meat has doubled and we are seeing signs that growth in this category will only accelerate. Consumers are more aware now of the impact of modern farming on the environment and animal welfare, while there is growing anxiety about the impact of artificial chemical additives and refined sugars on our physical health.
Organic is no longer a niche market and even as economic conditions took a turn for the worse last year, grocery shoppers are still seeking out produce and brands that claim to be either farmed or grown more naturally.
What's a label worth?
Seeing this trend and wishing to support the industry in the US and further afield to grow organic and sustainable food, global supply chain compliance certification firm QIMA, acquired IBD, the largest certifier of organic products in Latin America, in 2021. The expanded group can now provide food safety certification and audit services to food businesses and the agricultural sector through its QIMA WQS division as well as meet the growing demand for independent, globally recognised organic and sustainability certificates.
The IBD Organic Seal meets standards in the US, European Union and Brazil, with a Canadian equivalent as well.
"Consumers are becoming more discerning and demanding of product transparency, safety and sustainability. This is especially true for the organic food sector. The value and integrity behind organic certification processes is becoming more recognised and meaningful. Third-party certifications have also been proven to be effective for gaining customer loyalty and fostering long-term profitability in the food industry," says Alexandre Harkaly, Director of Strategic Integration, QIMA WQS-IBD.
Responsible consumers are savvy.
To win over this growing cohort, your food product will need to demonstrate relevant third-party certification, like USDA Organic, Canada Organic or Regenerative Organic Certified (ROC), clearly visible on the external packaging.
The USDA Organic and Canada Organic labels indicate that the food or beverage has been produced through methods that promote ecological balance and conserve biodiversity. Synthetic fertilisers, sewage sludge, irradiation and genetic engineering may not be used. ROC is a fairly new and ambitious certification demanding even higher standards for soil health, animal welfare and farmworker fairness, striving for decision making that takes inspiration from the unique context of the land, plants, animals and farmer. QIMA IBD offers this in Brazil and is set to expand the service in other markets.
'Clean label' foods defy inflation
A GlobalData report called 'Clean Label in Consumer' published in April says that customers trust these independently accredited labels to validate the "better-for-you", "better-for-the-planet" credentials they are seeking. The report defines a clean label product as one that has all, or mostly, natural ingredients, is unprocessed and/or has mostly organically produced ingredients.
Its authors project that this market will continue to grow to 2027 at a compound annual growth rate (CAGR) of 4.4%.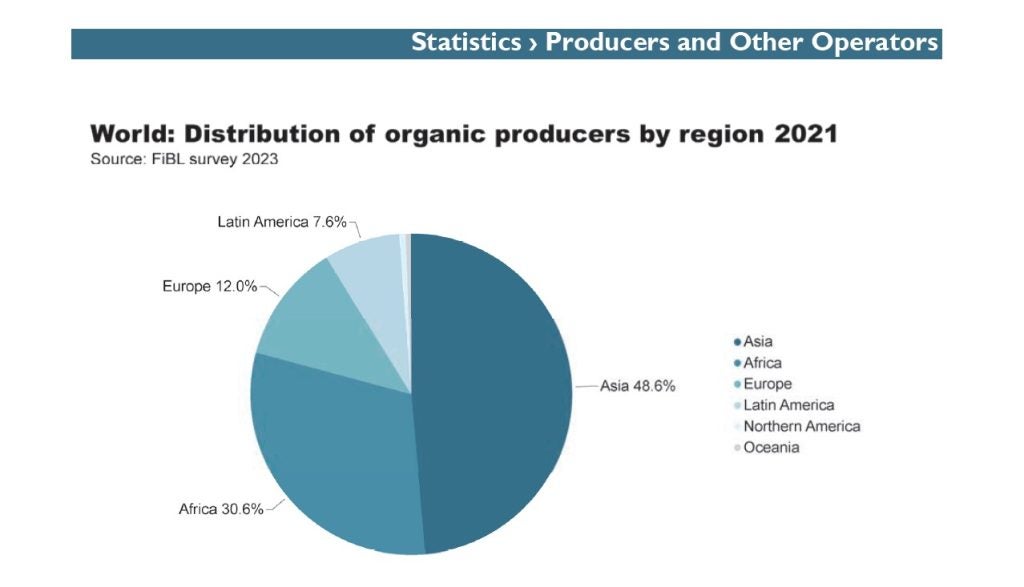 The GlobalData Clean Label report says: "Even in the current macroeconomic climate in which consumers are increasingly making compromises to their usual spending habits due to inflation, health and wellness continues to rank above the easy and affordable trend which comes in second."
But it cautions that the parameters of what constitutes a clean label product are subjective, which means that brands must interpret what the most important attributes are for their specific products, in line with consumer expectations.
"For brands investing in the clean label theme, it is important that the on-pack product information easily identifies clean label features and attributes," the report says.
No shortcuts
To access these labels, there are certain requirements, and these have in the past made transitioning to organic farming practices an almost insurmountable challenge. According to the USDA National Agricultural Statistics Service, the number of non-certified organic farms in the US actively transitioning to organic production dropped by almost 71% since 2008.
Difficulties converting include factors like farmers having to manage their land for three years without using prohibited inputs. Less than 1% of farmland in North America is farmed according to national organic standards.
But the Biden administration wants to turn things around and is putting its money where its mouth is. A landmark federal investment announced last summer will make available $300 billion for farmers and producers through the Organic Transition Initiative program, a multi-agency effort to accelerate the US organic market. The US Department for Agriculture has said it will provide organic-specific technical assistance, mentoring, market development, and updates to USDA farm programs for conservation, crop insurance, and certification cost-share programs.
"USDA and its partners have worked quickly to establish a robust network of partners in every state, and we encourage organic mentors and transitioning farmers to contact these organizations to get started," USDA Under Secretary for Marketing and Regulatory Programs Jenny Lester Moffitt said.
"Organic production is a vital part of the USDA's Food System Transformation Initiative, bringing new opportunities for producers across the country."
Biden's plan
The Transition to Organic Partnership Program (TOPP) includes six regions: the Mid-Atlantic/Northeast, Southeast, Midwest, Plains, Northwest, and West/Southwest. Up to $100 million will be given to non-profit organisations over five years to provide technical and educational assistance and wrap-around support for transitioning and existing organic farmers.
"At QIMA IBD, we are watching this ambitious federal initiative closely. We believe that organic standards in agriculture and livestock farming could eventually be rolled out in new regulations for all farming practices as environmental and humanity risks from climate change become more tangible. Going further to preserve soil health and save water should be the aim of all farmers as local food security is as stake," says Harkaly.
"Government policies can go further in supporting the US create robust organic food systems, but President Biden's TOPP program is certainly a milestone."