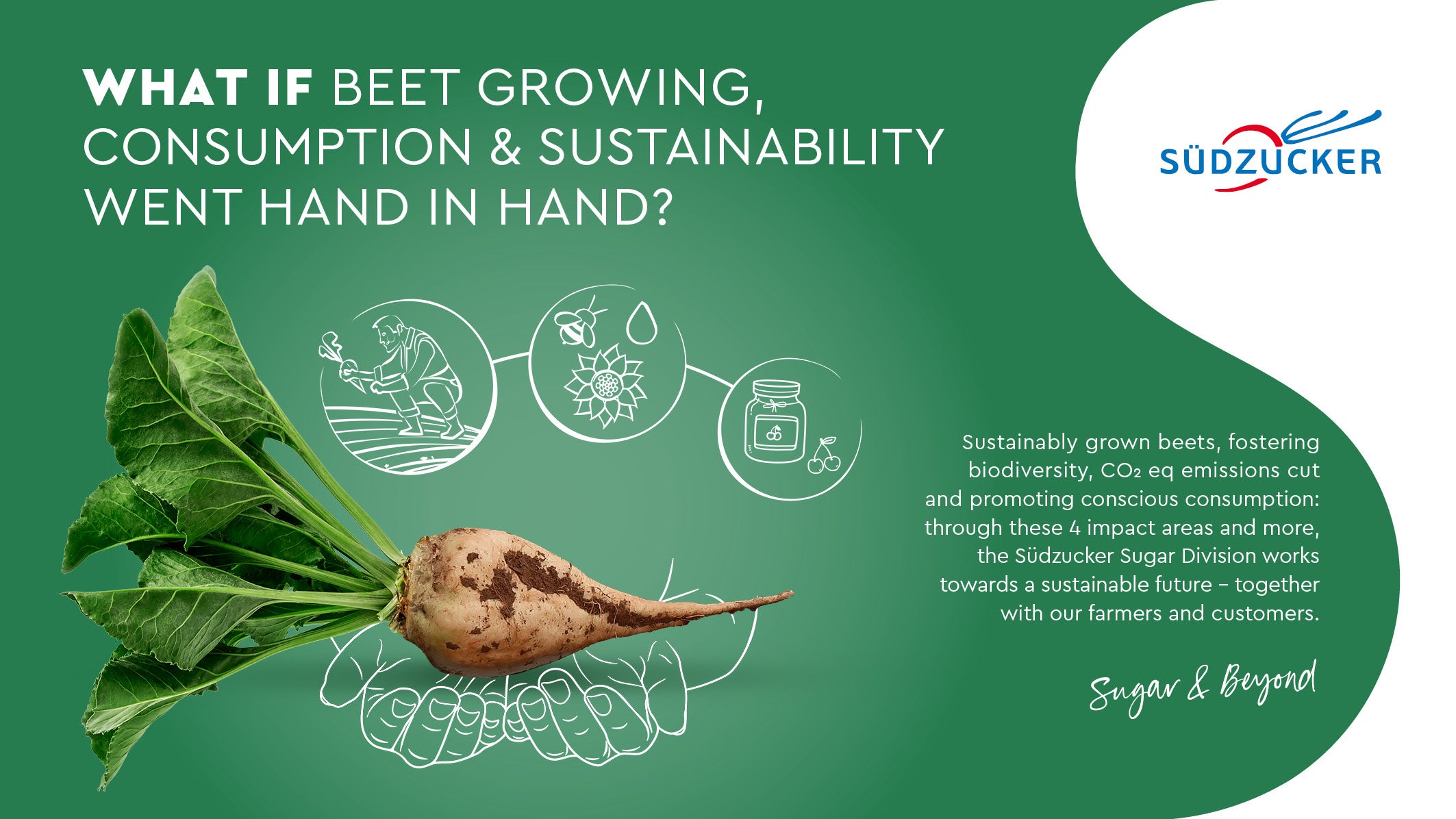 It has been a life-changing few years. Against the harrowing backdrop of the Covid-19 crisis, the war in Ukraine and a spike in inflation not seen for more than 30 years, lifestyles have irrevocably shifted.
A major GlobalData study of consumer behaviour and preferences across 44 countries shows that over the two years between the first quarter of 2021 and that of 2023, when it comes to food, purchase drivers have been greatly affected by financial concerns, and the greater pursuit of physical and mental health.
'Health & wellness' was a top purchase driver in 26 of the 42 countries surveyed in Q1 2023, while 62% of the respondents said they were always or often seeking affordability when making grocery decisions. In this challenging economic climate, 'sustainability & ethics' unsurprisingly dropped down the list, although almost half (46%) of the respondents said they were influenced always or often by a brand's sustainability credentials.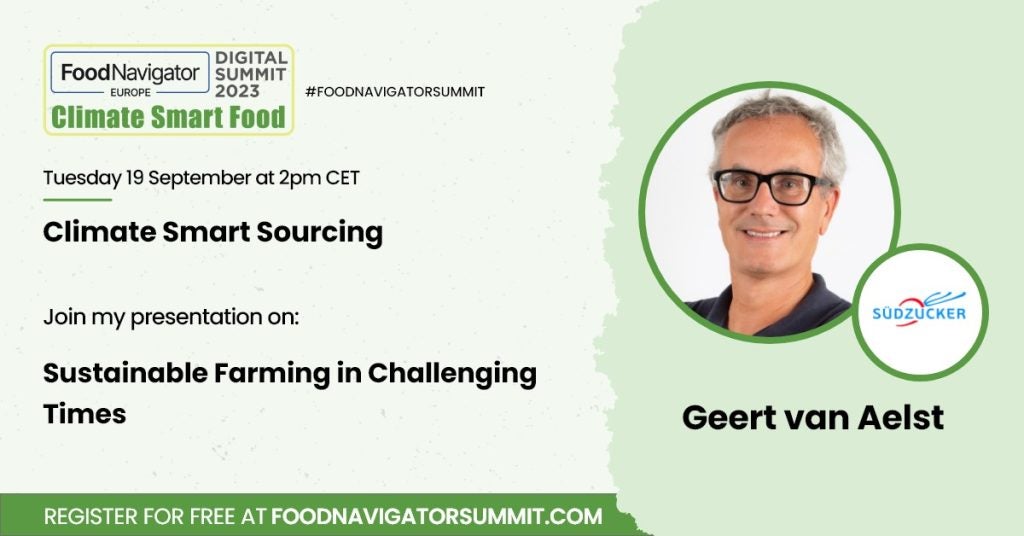 Watch: the Climate Smart Sourcing event is available to watch now at this link
Yet, regardless of consumption drivers, it is crunch time for the planet and a global food system which is no longer fit for purpose. Food Navigator's Climate Smart Food Digital Summit 2023, which ran from 19 to 21 September 2023, shone a light on the urgent need for climate-smart strategies across the value chain to ensure food security over the long term.  
The most challenging part of the supply chain is agriculture and Geert Van Aelst, head of sustainability at Südzucker Sugar Division, spoke at the Summit about how manufacturers can support farmers to embrace practices that reduce CO2 emissions and better protect their local ecosystems.
In an interview with Van Aelst, he explains why the Südzucker Sugar Division, which processes approximately 22 million tonnes of agricultural raw materials a year, puts so much emphasis and effort on sustainability innovation and sustainable agricultural practices.
Q: Geert, can you tell us a little about Südzucker?
GVA: Südzucker was established almost 100 years ago, in 1926 in Germany, as a beet-sugar manufacturer. Today, we work with approximately 21,000 farmers in Germany, Poland, Belgium, France and Moldavia, whose fields are within a radius of an estimated 50km to our factories. Local production was the company's first step towards supporting a more sustainable supply chain and it is still critical to our operations.
Today, we have about 18,000 employees worldwide in the wider Südzucker Group, with annual revenues that top 9.5 billion euros. Südzucker Sugar Division belongs to one of five segments of the Südzucker Group.
Südzucker Group focuses on eight impact areas and 'Growing in Balance' is our common understanding. This means harnessing the passion and expertise of all our employees in their diverse roles to create value that is in harmony with people and the planet. In everything we do, we aim to strike a balance between economic, ecologic and social issues, taking into account the expectations of all the different stakeholders.
Südzucker Sugar Division highlights four impact areas, following the 'Farm to Fork' process

We see it as our role as a leading food ingredient provider to contribute to a better future and environment. To that end, we are involved in many different activities so we can meet our own sustainability goals, but also support our partners meet theirs.
Farmers are being challenged on all sides – from high input costs, regulatory tightening, climate change, newly occurring pests and diseases, and pressure from the top of the supply chain to keep their prices low – so we partner closely with them to grow crops in environmentally and socially responsible conditions.
Q: What are some of your priorities in regard to sustainability?
We have defined four main fields of action on which our activities are focused: sustainable farming; fostering biodiversity; reducing emissions; and shaping conscious consumption by educating customers on the benefits of sugar.
Emission reductions come from changing the energy mix, energy efficiency measures and the use of biogas. To demonstrate our commitment, we have Science Based Targets initiative (SBTi) validated targets.
Agriculture is a CO2 emitter, accounting for an important part of total emissions in the food supply chain. A lot of this comes from synthetic fertilisers and diesel consumption, so one of the big areas we are exploring is to optimise fertiliser use while maintaining yields.
We have a subsidiary called BGD (short for Bodengesundheitsdienst GmbH), which is a soil-health service we offer to farmers. It offers laboratory tests, including soil analysis and advice on optimising fertilisation, for the entire spectrum of agriculture to contribute to a more sustainable way of farming. Since its foundation in 1986, BGD has helped to decrease the use of N-fertilisation on sugar beet by 50%.
From an R&D perspective, the priority is on how we can help our farmers fight new pests and diseases through weed-control technology, targeted crop-protection methods, and digital equipment that can monitor leaf and bacterial disease.
Kuratorium is a board of experts from Südzucker and our farmer network to organise and implement different research themes and groups.
They manage about 10,000 research plots on a yearly basis. And this way they have contributed to a 70% reduction in general plant protection since 1990.
We employ about 200 raw material consultants who are in daily contact with our farmers to communicate our latest research on soil cultivation, seed selection, crop protection and soil fertility, so these can be incorporated into modern farming practices at speed.
The last cornerstone of the activities is our research farm, Kirschgartshausen, where a range of innovations have been trialled and scaled since 2018. The main focuses are:
Crop rotation and cultivation systems
Fertilisation – specific to the plot and needs-based
Plant protection – chemical, mechanical and autonomous
Digital transformation – applying new technology
Fostering biodiversity
Q: What about biodiversity?
Since 2018, the Südzucker Sugar Division has used its agricultural research farm in Kirschgartshausen, Germany, in co-operation with the Institute for Agroecology and Biodiversity to pioneer research on effective measures to foster biodiversity. One major focus has been on assessing the impact of flower strips on beneficial insects, pests and pollinators, as well as birds and other animal species.
Between 2018 and 2020, single-year and perennial flower strips with a width of 12 metres were integrated into a 25-hectare (ha) sugar-beet field. They took up an area of between 1.8–3.4 ha. Another sugar-beet field was planted without flower strips. Sweep-net samples were conducted between the beginning of June and mid-September in both fields, in the flower strips and in herbaceous habitats adjacent to the control field.
The results of the five-year, ground-breaking study are promising. More importantly, it is beneficial for the long-term health of soil and local ecologies. Results show 400–500% more biomass within the areas with flower strips. We use this research to develop management practices that support the farmers in the sowing of flower strips on their farmland. Südzucker started providing a specific mix of flower seeds in 2014 for free, and the number of flower strips grew steadily to more than 2,000 (approximately 200 ha).
This is the basis for a pilot programme we have launched called the Südzucker Biodiversity Alliance, a points system that essentially aims to incentivise farmers for using the flower strips, as well as taking part in other scientifically proven activities to support local ecosystems.
Challenges are plenty, but we want to make step-by-step progress towards clear and defined goals, while always taking the views of the stakeholders into account and ensuring we deliver value from sustainability. This is also why our corporate sustainability programme is anchored around the 'Growing in Balance' baseline.
Hear Geert Van Aelst, head of sustainability at Südzucker Sugar Division, speak about Südzucker's involvement and focus areas of investment in sustainability innovation at the #FoodNavigatorSummit. Register here.