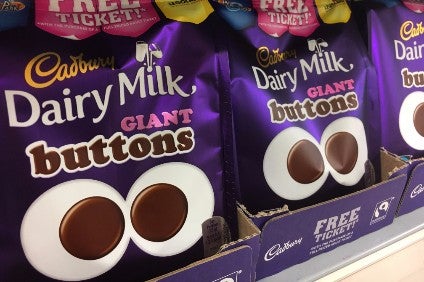 "Overall we find the gross margin trends encouraging. Now, if they could just get the top line cranking as well."
The words this week of one Wall Street analyst reflecting on Mondelez International's latest set of quarterly results, for the third quarter of the year, which featured a fall in net revenues across each of the Oreo owner's four geographical divisions.
Recently-installed CEO Dirk Van de Put said Mondelez "performed well" in its third quarter but the company isn't resting on its laurels as it looks to get in the best position to see longer-term growth. Van de Put pointed to the company's plans to implement "a more agile innovation model" and to put into place "a new commercial structure that will improve our consumer focus and drive greater local accountability, while igniting our global and local brand and innovation agendas".
Alongside the third-quarter numbers, Mondelez, home to brands from Cadbury to Lu, made two other announcements this week that show the snacks giant is trying to kick-start its sales.
Van de Put announced a rejig of Mondelez's regional business structure, designed to get the company closer to its consumers, make it more agile and speed up innovation.
"We believe this change will enable volume-driven, top-line growth and absolute profit dollar growth," Van de Put said.
How to organise for growth is critical for any business and not just for companies the size of Mondelez or even those with a new person at the helm.
A particularly interesting element of Mondelez's plans is how the company is grouping countries and regions together in its 13 new business units, which will sit under those four larger regional divisions.
"These business units reflect large and/or fast-growing countries and clusters that are homogeneous in terms of consumers/trade/portfolio," a Mondelez spokesperson told just-food, outlining where the 13 units will take shape.
Of course, the way Mondelez is organising itself is unlikely to be directly applicable elsewhere but that clustering of countries and regions is a strategy its peers should study.
Another announcement that came with the third-quarter figures was Mondelez's move to set up a new future-focused hub.
SnackFutures, to be led by Mondelez's chief growth officer, has three elements – one of which is an incubator, making the company the latest food manufacturer to launch an incubator programme.
As the food majors of North America and Europe broadly struggle to rejuvenate sales in the face of changing consumer habits, company strategists are looking at a range of ways to kick-start their sales. Some have turned to accelerators and incubators to, one, support fledgling businesses and, two, try to tap into the new trends shaping the industry – and how to innovate to meet them.
We've got a guide to the incubators and accelerator programmes set up in recent quarters you can read here.
Mondelez's measures are of course unlikely to have an immediate, material impact on its sales. Van de Put told analysts on Monday the company is looking to grow in-line with the overall category in 2019.
However, the initiatives demonstrate that the business, after spending years driving margin growth (and continuing to do so), is now at least trying to breathe fresh life into its top line.